Cooking Recipe:
When we visit family in Italy, we eat calzone often – it's an easy meal. I prefer to make them from my own dough but during the week I don't get home until after 6pm so I have no time to get the breadmaker doing its thing. Hence sheet pastry comes into its own. Tonight I had a couple of sheets of both short pastry and puff pastry in the freezer so I mixed it up a little.
This is what I put inside:
Tomato sauce – homemade or from a jar – I used the jar although I would usually use Adriano's leftover sauce from his weekend pizza making but last week he made the pesto and eggplant one.
Pesto – homemade (see my salami pasta salad here) or from the fridge area of a supermarket or delicatessan – not the preserved sort because it's very vinegary.
Mozzarella – get the fresh if you can find it (and afford it) or the closest you can get to it.
Ham – thick slices
So first of all, defrost the sheets of pastry and slice down the middle so you get two calzone for each sheet. Slather pesto on one half of each piece and the tomato sauce on the other end, then layer on the ham and cheese only on one end. Fold over and squeeze together the edges, tucking them over a little to form a seal. Brush with egg white and place on an oven tray at about 200 degrees celsius. Cook until toasty brown. The inside ingredients will be piping hot so be careful or you will burn yourself. Of course, you could place almost anything inside but there are limits if you want to preserve an Italian feel.
We ate it with broccoli because it is full of vitamin C and one must think of such things occasionally.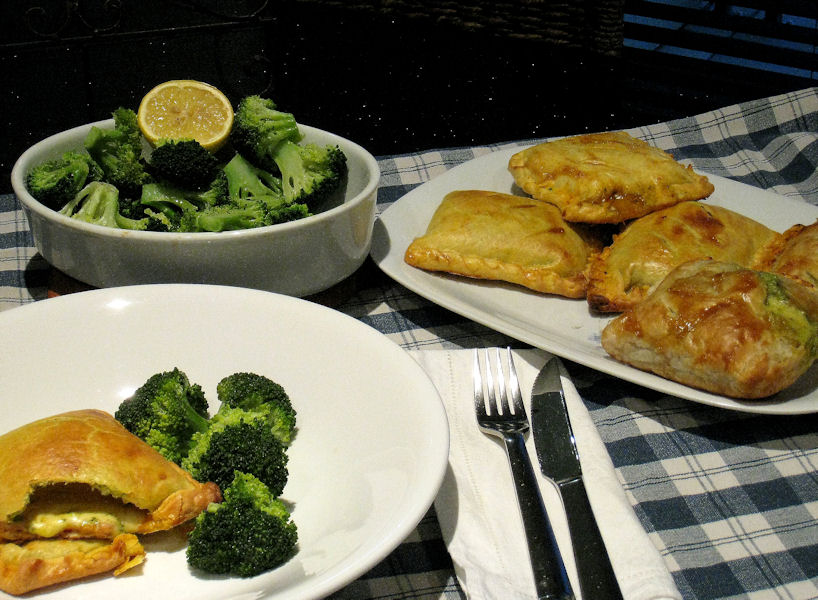 Related posts: