A wonderful extra day of holiday and I got this decadent craving for cupcakes and thought I would give them another go. I found this crazy recipe on Sprinkle Bakes and I was rather taken by the idea that the liquid was coca-cola instead of milk. I was keen to photograph them in natural light but by the time I had baked them, cooled them and iced them, the light was gone. I guess I should have started earlier but I went to the movies this morning, which was a big mistake. Adriano wanted the car in the afternoon and Dario had the other one so I needed to choose a movie early in the day and Battleship was the choice. I love Liam Neeson but he made a serious error of judgement with this one. When they started walking in slow motion towards their destinies, I almost walked out. It  was second only to Transformer in cliched horribleness. Give it a miss at all costs.
Anyway back to the cupcakes.
[print_this]
Coca Cola Cupcakes with salted Peanut Butter frosting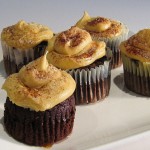 Ingredients:
1 cup coca-cola
1/2 cup cocoa
4 tbsp butter
1/2 cup + 2 tbsp sugar
1/4 cup brown sugar
1 cup flour
1/2 tsp + 1/8 tsp baking soda
1 egg
Method:
Preheat oven 350F or 180C. Line cupcake or muffin tins with cupcake papers.
In a pot heat coca-cola, butter and cocoa, then add sugars. When dissolved cool.
Beat the egg lightly and add to the liquid.
Mix flour and baking soda and add to mixture. 
Pour into the cupcake liners and bake in oven 20-25 minutes.
Cook before icing.
Icing Ingredients:
4 cups icing sugar
1 cup butter
1 cup creamy peanut butter
3-4 tbsp cream
Method:
Beat butter, sugar and peanut butter together well.
Add the milk a little at a time and beat until the mixture is smooth.
Pipe onto the cakes. Sprinkle with chocolate or nuts.
[/print_this]