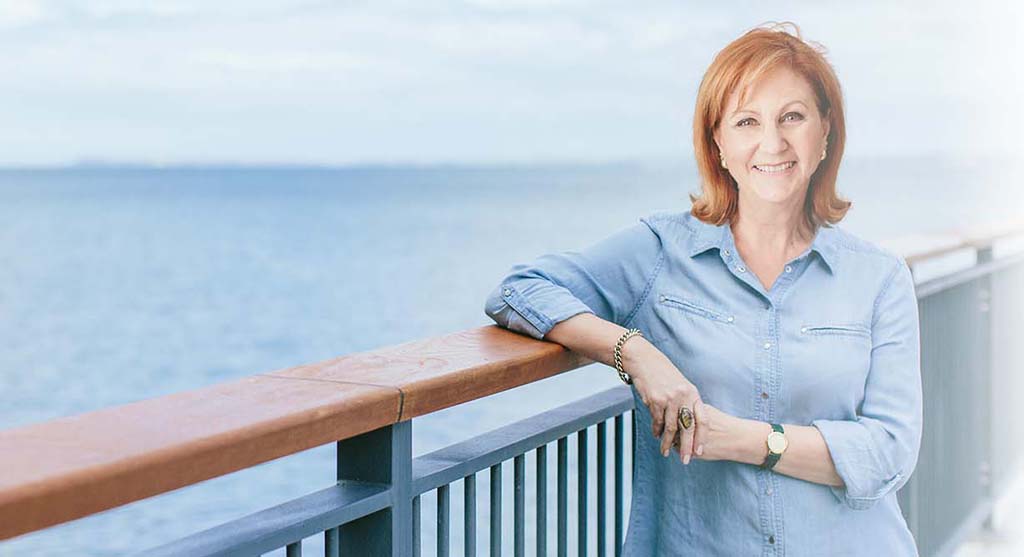 Today I am a fulltime online coach for IBS sufferers earning a 6-figure income, but how did I get here in a few short years?
I am going to tell you that story before making you a FREE offer to help you follow in my footsteps.
FIRST A LITTLE HISTORY TO SET THE SCENE

Twelve years ago, my father, who was living with us, was slowly dying. During that time I made the bizarrely irrational decision to go from part to full time work. I don't know what possessed me but I blame it on the scrambled ideas which inhabited my brain during that very painful period of my life. I started that fulltime job in real estate administration the day after my father's funeral.
My job was full of busy, stressful activity and much aimless noise. But it helped me to not think for long periods of time during the day, and that was a blessing. I eventually became proficient enough at my job to be headhunted by one of the company's top agents as her personal assistant.  And my responsibilities (and income) climbed from there as I stepped up into other jobs within the same industry, as did the stress that goes with working for highly motivated, self-focused individuals. Some of my bosses were adequately pleasant but others were mean-spirited individuals who trampled all over those in their way and treated those around them with a blatant disregard for their feelings. Dealing with such people day in and day out eats away at your serenity.
My last job almost finished me off. First my neck seized up and I could hardly move it without pain. Then tension headaches, which I had suffered from intermittently since shortly after starting full time work, morphed into migraines. Repetitive strain syndrome (RSI) attacked my right shoulder and arm. At the same time, my right tear duct decided to close over so I had a permanently flooding eye. Try and see a computer screen when you are crying. That is what I was dealing with every day in a fast-paced, deadline-driven, neurotic environment.
Then, seven painfully stressful years after I started on this self-destructive path, I bought myself four months of freedom.
HOW DID I BUY THOSE 4 MONTHS OF FREEDOM?

A few years before, I had become annoyed at having to answer to my husband for every purchase that I made despite earning a full-time wage, and so I came up with THE PLAN.
Out of my income, which went directly into a separate account to the main one, we set up two monthly automatic payments to each of our newly created personal accounts. This was like a wage to ourselves, and we could do what we wanted with that money without fear of judgment from the other spouse. I am not talking about a lot of money, but it gave me a sense of independence and went a long way to solving a few problems. At that stage, the idea of buying my freedom hadn't even occurred to me.
I went through periods of spending and saving that small wage, but over time it accumulated – at first a few hundred dollars and then a few thousand and so it grew. I always thought I would use it for cosmetic surgery when I got too old and ugly. No, not really – I would be terrified of going under the knife when it wasn't to save my life. But, anyway, my personal fund grew.
My final boss set targets of houses to list and sell before Christmas and when we hit those targets, we could go home on paid leave until early January. We actually hit those targets at the end of November, but she kept me on for an extra week before saying I could have the next week off and then take any holidays which were due to me because she was going overseas and didn't need me back until January 13th. That wasn't exactly the agreement when the targets were set, but five paid days of extra freedom were better than none. By then, I was so destroyed from trying to combat my physical ails as well as her foul moods, that I already had an inkling that I wouldn't be back and packed up my few belongings and took them home with me. In fact, after a week of trying to take back my mind, I realized I had reached the end of my tether. I spoke to my sister and my friends and finally my husband about handing in my resignation. My sister and friends encouraged me, but my husband immediately queried what I was going to do for an income, and that's when I came up with THE PLAN.
WHAT WAS THIS MAGICAL PLAN?

I worked out my monthly income after tax. Then I went to my personal bank account and saw how much I had. I divided that by my monthly income and found I had 3 ½ months of wages in there. And during the 3 ½ months, I would have accumulated another two weeks' worth of our small wages. So that made four months before I had to start earning again. I then transferred that over to the account where my wages usually went and I had four months to plan a new source of income.
ON THE LAST DAY OF MY HOLIDAY

Elation flowed through me at the realization on the final day of my paid holiday that I wasn't going back to the hellhole. But there was also fear – fear for the unknown future.
So, in January 2014, it started for real. I was getting up in the morning with a spring in my step and hope in my heart. It had been so long since that was true that I had lost sight of the possibility. It is so easy to get sucked into a life that is less than one deserves. And the getting out takes more courage than you would believe.
I got up when I wanted and went to bed when I was tired. I got more sleep. Years of under-sleeping had taken its toll. And now I was getting enough sleep – at last.
In 2012, I had started a small blog to document my struggle with my lifelong gut issues and once I started to post about my recent discovery – the low Fodmap diet for irritable bowel syndrome – my subscriber list expanded rapidly. Despite posting on my blog every day with article and recipes, I was earning no money from it. How I now earned money was that I notified a couple of the Facebook groups I was a part of that I was available for a range of jobs, and bloggers got in touch with photograph requests, post requests, graphic art requests and admin work. I didn't ask much for my work because bloggers are a chronically broke lot but give freely from their hearts on their blogs.
I walked each day to the beach and stood there for 10-15 minutes staring at the sea and the people relaxing in the water. I was completely tranquil, in the moment. A few weeks before, I would stare at the sea, and tears would come to my eyes for the futility of my days, for the pain I felt, for the longing in my heart for another way. Sunday afternoons, in particular, used to be crushing in the oppression of yet another mindless week ahead. Dramatic? Sure. But it became all a lot clearer now that I had peace, now that I had time to put things into perspective. I had been miserable, frantic and desperate. Had been for years – ever since my father died and I mindlessly started full time work in the real estate industry in an attempt to be busy enough to forget for a few hours what he had gone through. And the realization that good men can die badly. It took away my faith that positivity always wins, that there is a solution to everything if you dig deep enough. The realization that it was all random hit hard and has never really left me. My understanding of life shifted irrevocably. I was a new sadder person who looked at the stars and only saw stars.
But, by leaving my job, I left that chapter of bleakness behind me and I came out the other side of a darkness that had all but consumed me. Just in time. With my health deteriorating, there was no way but down.
And talking of my health, over the next few months, I gradually dropped down from four different medications for pain and inflammation to none.
TWO WEEKS BEFORE MY MONEY RAN OUT

With only a couple of weeks to go before my money ran out, I was starting to panic because, even though I was earning, it was about half the money I needed to transfer to our joint bank account each month. My nest egg from The Plan was almost empty.
By this stage, I was receiving many emails a day from followers of my blog with gut issues asking me for help and though I replied to them all, I couldn't do much more. That's when the stars aligned and I watched a webinar about becoming an online coach in one's field of expertise.  So, I put out a newsletter to my 5,000 (at the time) subscribers and offered a 6-week group coaching program. I wanted just six people for the first program and made it clear that this was all new to me too. Even though I asked for around US$1,000 each, the program filled quickly and I became the first online coach teaching people how to implement the low Fodmap diet to eliminate their IBS symptoms. Every one of the six people was symptom-free by the end of the six weeks and so my business started.
N.B. I have now had well over 1,000 people through my program.
WHAT ABOUT TODAY?

Now, 5 years later I am thinking of retirement, but first I want to teach others how to take over the reins. 10% of the world's population (15-20% in the Western world) have IBS and don't know where to turn. The world desperately needs coaches. But the first step is to start a blog, just like I did.
A NEW BEGINNING

To help you do this, I have created a FREE challenge called, "Create a Blog" that will guide you step-by-step over 11 days on how to set up a functioning blog and make it look pretty. Of course, you may want to set up a blog for an entirely different topic but my hope is that you may want to blog about your journey with IBS and help others with all the knowledge you have accumulated over your time as a subscriber to my website.
By the end of the eleven days, you will have an attractive, functioning blog. This challenge includes a private Facebook group so you can share your results and ask me and each other questions.
In case you didn't read it the first time, this challenge is FREE.
The "Create a Blog" challenge starts in 2 weeks' time on Saturday, 19th January 2019.
Hurry on over and …
| | | |
| --- | --- | --- |
| | JOIN the free "Create a Blog" Challenge HERE. | |