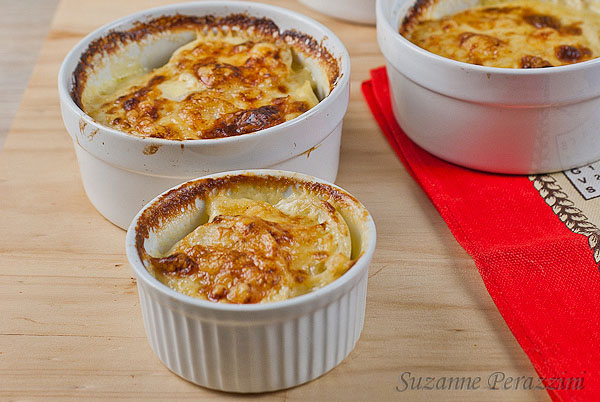 Tonight potato dauphinoise is the side dish I cooked for the family. I didn't want to boil some spuds and plonk them down on the plate or they would have looked at me sideways. They are used to good food and the classic meat and three veg doesn't go down well around here. And that's fine by me. I love variety and get bored if I have to cook the same things twice. That's why a family that is fussy about quality and this blog work well together.
This is a simple dish which takes little preparation and then it cooks while you prepare the rest of the dinner. It could be made in one large dish but I prefer individual dishes. That way I could use a smaller one for me and still feel like I had the same food without stretching my waistband too far. In the photo you will notice that the front one is much smaller. Adriano had two of the big ones and Dario the other.
 This recipe is not low Fodmap.
Potato Dauphinoise
Author:
Suzanne Perazzini
Ingredients
500g Potatoes
200ml Double Cream
100ml Milk
1 Crushed garlic Clove
50g Grated Gruyere Cheese
Method
Preheat the oven to 180°C/350°F.
Add the cream, milk and the crushed garlic into a large saucepan. Bring to a gentle simmer and add the potato slices, cover the saucepan and then simmer for 10 minutes or until just tender. Season well.
Empty the contents of the saucepan into a greased ovenproof dish or individual dishes and sprinkle the cheese over the top.
Pop in the oven for 25 minutes or until golden.