This is a guest post.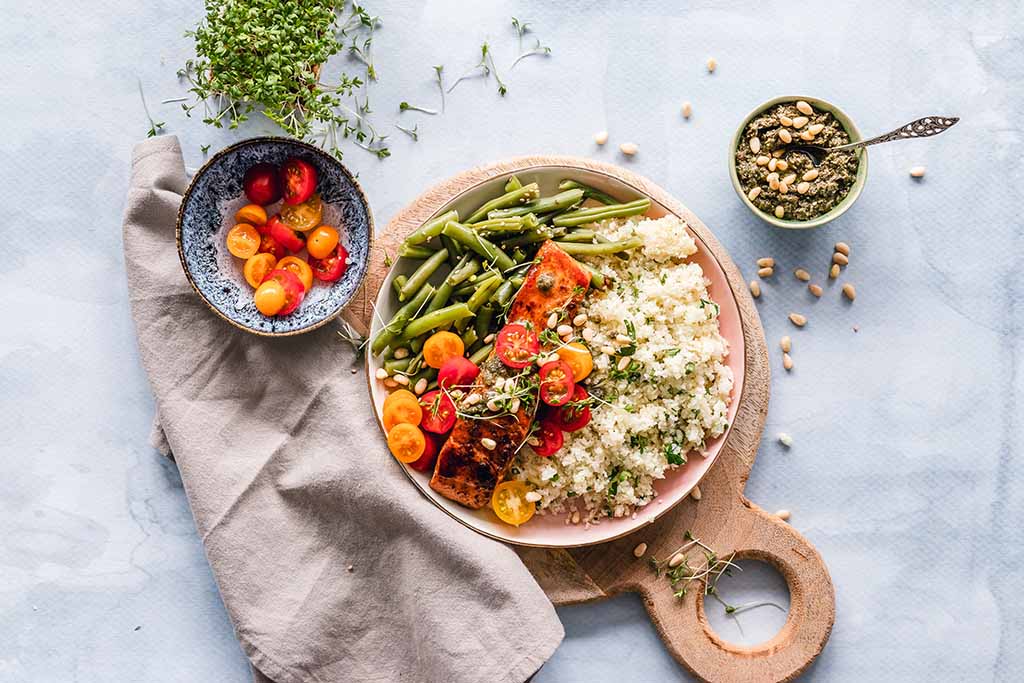 Irritable bowel syndrome or IBS may not receive the same attention as life threatening illnesses, but its impact on quality of life can be dramatic. After all, it's hard to stay focused or positive when you must contend with abdominal pain, diarrhea, or constipation on a regular basis. Sadly, it's a fate that millions of Americans are all too familiar with as the condition affects an estimated 10-15 percent of the population. You can make life easier for a loved one suffering from IBS just by making small changes in the kitchen. A simple rule would be to follow low-FODMAP diet recommendations, as research shows that 75% of those afflicted with IBS can benefit from the diet. Here are some simple cooking tips for IBS that can help to reduce the frequency and severity of IBS symptom flare-ups.
Enjoy Your Fruits But Choose Wisely
Yes, fresh fruits, fruit salads, juices, and pies are healthy, but all fruits contain fructose, a FODMAP. This may seem like quite a conundrum, but not all fruits are considered high in FODMAPS. This is because some contain lower amounts of fructose than others and higher amounts of glucose, which is not a FODMAP sugar. Notably, glucose also aids the absorption of fructose, reducing the risk of gut symptoms. So, the next time you're cooking, substitute high FODMAP fruits like apples, mangoes, plums, peaches, and melons for low FODMAP fruits like blueberries, kiwi, papaya, strawberries, and unripe bananas instead.
Swap out onion and garlic
Garlic and onions are among the most concentrated sources of fructans, which means that they're high FODMAP foods that can aggravate IBS symptoms. Avoiding or even limiting their intake may seem like an impossible task, considering that both foods are widely used as flavoring ingredients in sauces, gravies, and other dishes. Fortunately, there are safer low FODMAP substitutes that you can turn to. The leafy green part of spring onion, chives, or finely chopped fennel can do the job of adding some flavor to your food.
Make your own homemade stock
Ready-made stocks may seem like healthy food, but they often contain onion, making them a no-no if you're cooking with IBS. Your safest bet is to make your own homemade stock, using low FODMAP ingredients. Simply boil your choice of meat or bones with low FODMAP flavoring ingredients like rosemary, oregano, peppercorn, carrots, the green of spring onions, and of course some salt and pepper. As long as you steer clear of onion and garlic, most other herbs and spices are compatible with the low FODMAP diet, so you can keep experimenting with them.
Oyster mushrooms over all others
When it comes to mushrooms and IBS, there's one mushroom to rule them all, at least if you're dealing with IBS. Almost all varieties, including Portabello, button, and shiitake mushrooms are classified as high FODMAP foods. The only type of edible mushroom that is regarded as a low FODMAP food is oyster mushroom. If you substitute all other types of mushrooms for oyster mushrooms, you can still enjoy their great taste and rich nutrition without exacerbating your IBS symptoms.
Low FODMAP grains
Grains like wheat, barley and rye are high Fodmap, though most people can tolerate at least some wheat. When cooking or baking, try to use low FODMAP grain alternatives like brown rice, millet, quinoa, buckwheat or sorghum instead.
Firm tofu instead of silken
Tofu is a healthy vegetarian source of protein and is often used as a substitute for eggs in some dishes, but you need to be cautious about the kind of tofu that you use. The concentration of FODMAPs in tofu is affected by the method of processing, with silken tofu having a high FODMAP rating. This could be because of the water soluble feature of fructans – the water content in silken tofu is high as it is unpressed. On the other hand, firm tofu is drained, which may explain its lower FODMAP content.
Cook from scratch
Pre-cooked meals and packaged foods aren't necessarily unhealthy, but they often contain additives and ingredients that can aggravate IBS. For example, a store-bought blueberry jam may be a low FODMAP food in theory, but could contain ingredients like apple juice that raise the FODMAP content. Sugar free sweets and gum can also contain sorbitol, a sugar alcohol that can have a strong laxative effect in people with IBS. Cooking food from scratch gives you greater control over what goes into meals and it's the most sensible choice for anyone with IBS.
Use IBS friendly herbs & spices
It can feel like your hands are tied when you're cooking for someone with IBS, but it doesn't have to be that way. While there are restrictions on some flavoring or seasoning ingredients, you also have plenty of healthy options that can be beneficial for IBS patients. Herbs and spices like turmeric, peppermint, cardamom, and cinnamon may actually provide relief from IBS symptoms through proven anti-inflammatory and antispasmodic effects.
Living with IBS doesn't require the elimination of entire food groups, but it does demand more care to identify and limit exposure to food triggers. Most patients benefit from low FODMAP diets, so it would help to learn more about such diet plans and how you can adapt them for your individual needs.
Author Bio -Anita Fernandes
Anita Fernandes has been writing extensively on health and wellness for over a decade. She has expertise in nutrition, fitness, public health, and weight loss and has contributed content to a variety of leading digital health publishers. Anita has a unique perspective on healthy living and lifestyle, as she has battled and overcome eating disorders and obesity. She shares her experiences in an effort to help others overcome the physical and mental health problems that can sometimes seem insurmountable. https://www.everydayhealth.com/irritable-bowel-syndrome/