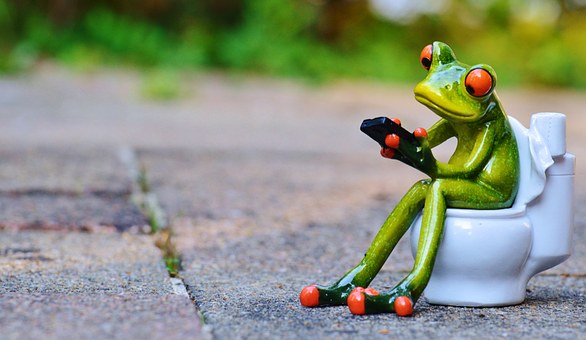 IBS with constipation is thought to be less problematic than IBS with diarrhea. In some ways, this may be the case. With constipation, we (yes, I am in this group) seldom have an emergency dash to the toilet or accidents in public. However, while IBS with diarrhea can be rapidly solved with an accurate low Fodmap diet and good controls on fibre and fat levels in the diet, solving constipation is a little more difficult. Below are nine steps I personally take and advise my clients to take in order to create regular toilet habits with easy-to-pass bowel movements.
Drink eight glasses of water a day in small constant sips rather than in larger amounts all at once. Have a little extra if you exercise for prolonged periods of time or live in a hot climate.
Eat breakfast within 30 minutes of getting up (no excuses about exercising first) and always include ¼ cup oats (raw measurement) and 1 tbsp chia seeds (soaked in water or lactose-free milk for at least 30 minutes) or 1 tbsp flaxseeds. This will increase your fibre intake to help form good bowel movements.
Preferably, go to the toilet after breakfast rather than before. Obviously, if you have a strong urge to go before, don't ignore it. But, if you have had nothing to eat since three hours before bedtime the night before, there should not be an urge.
If the oats and chia seeds are not enough fibre for you (ideal fibre levels are individual), then have around half a cup of cooked quinoa at lunch or dinner. Use quinoa as a tool when you feel yourself getting a little more constipated.
Have 5-6 helpings of low Fodmap vegetables a day.
Four prunes are high Fodmap with sorbitol and fructans, but try one a few times a day to keep under the trigger level. They will help soften your stools. In fact, foods containing sorbitol and/or mannitol, draw liquid into the gut so can be used carefully as a tool to help with constipation.
Exercise daily for at least 30 minutes to get your heart rate up and move the large muscles of your body. This will reduce cramping and encourage good gut health.
Check the side effects of all medications and supplements to see if they could be worsening your constipation – calcium, iron and certain anti-depressants in particular. Check with your doctor for advice.
If none of the above helps despite consistently following this advice, try magnesium citrate. Start with 100mg a day and build from there if necessary. Don't start at the recommended dose on the bottle – that will be too much initially. Check first with your doctor to see if this is safe for you to take.
If you do find yourself getting backed up and think you may have impacted stools, then try a stool softener like Molaxole, starting with just a couple of sachets. But, get medical advice first.