I have just joined the Chocolate Party! It is a great  group of food bloggers who bake with chocolate and each month they decide on an extra compulsory ingredient. This month, it is cranberries.
I am on a mission to reduce my intake of sugar and that might seem a little contradictory with joining the Chocolate Party but I did say 'reduce' not 'eliminate'. These muffins I made are completely without added sugar except for what is in the chocolate. I found the recipe at The Life of Clare blog and thought they mightn't be sweet enough but was willing to give them a try. In fact, the bananas are enough and that makes these muffins sugarless apart from the chocolate content. How amazing is that? And they taste good!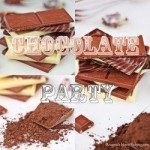 You might have noticed that I am using a new recipe set up, Ziplist. If you click on Save in the recipe, you then create a free account. After that, each time you click on the save button, you add the recipe to your personal recipe box. You can also create a shopping list from the recipes in your box. And clip some coupons while you're there. You can also use the print button to print the recipe and choose to include the photos or not. I have also added the nutritional information below the recipe.
This recipe is not low Fodmap.
Banana, Chocolate, Cranberry, Coconut Muffins
Ingredients
2 mashed bananas
1 cup dried cranberries
1 cup chocolate buttons, broken in half
¾ gluten-free self-raising flour
1 cup self-raising flour
2 eggs
¼ cup olive oil
⅓ cup desiccated coconut
The cream from a 400g tin of coconut cream
Method
Heat the oven to 350°F/180°C.
Mix all the wet ingredients together.
Blend all the dry ingredients.

Mix the wet with the dry until just blended – don't over mix
Spoon into muffin cups and bake for 20 minutes.