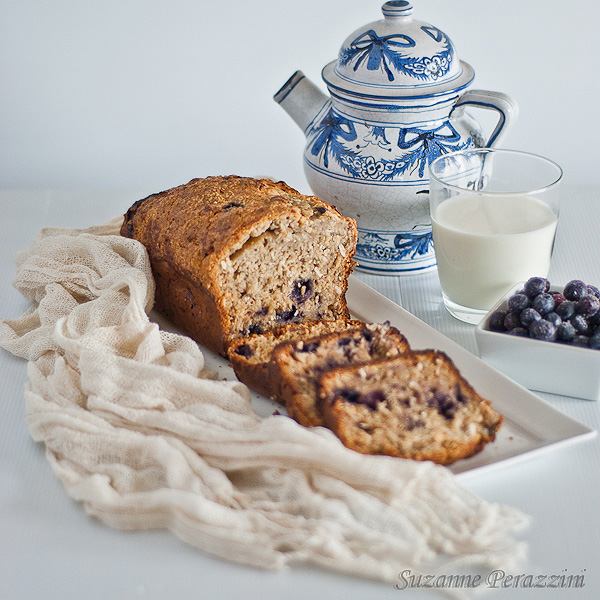 I am making a concerted effort to eat a little healthier and consume less calories, most of the time anyway, and so I have been seeking out recipes that come part way towards being low calorie and on the healthy side. This banana loaf has not got any added oil or butter so I thought it was a good place to start. My only worry was that it seemed a little boring so I have added blueberries and shredded coconut. I did think long and hard about adding white or dark chocolate but resisted the urge.I couldn't find any very ripe bananas so I microwaved some in 30 second bursts until they were soft. This sweetens them and they resemble overripe ones.
I found this recipe at Cook Republic. I made a quarter more of the recipe to make it fit into my loaf tin and that quantity should keep us going for a while but my Saturday baking never lasts too long and I am one of its major consumers.
[print_this]
Recipe: Banana, Coconut and Blueberry Loaf
Ingredients 
185ml full cream coconut milk
3/4 cup brown sugar
2 eggs
3 ripe bananas, mashed
1/2 cup quick cooking oats
2 cups self raising flour
2 tablespoons honey
1/4 teaspoon cinnamon
a pinch of salt
Blueberries (frozen or fresh)
1 cup shredded coconut
raw sugar for sprinkling
Method
Preheat oven to 180°C/350°F. Grease with butter and line with baking paper, a 20cm x 10cm loaf pan.
Whisk coconut milk, sugar, eggs, cinnamon, salt and honey in a large bowl with an electric mixer until creamy and combined.
Stir through the banana, oats, coconut and flour until thoroughly mixed. Stir in blueberries to distribute evenly.
Spoon batter into prepared pan.
Sprinkle the top with raw sugar.
Bake in pre-heated oven for 1 hour until well risen, golden on top and cooked through.
Preparation time: 10 minute(s)
Cooking time: 1 hour(s)
Number of servings (yield): 12
[/print_this]