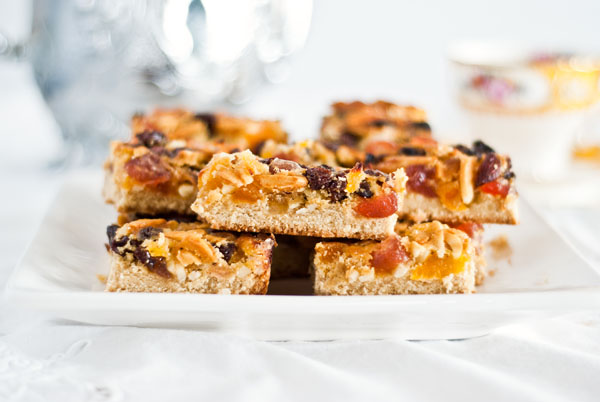 Over the weekend I found these brandied fruit slices on one of my favourite blogs, Hotly Spiced. Charlie is a mother of three children, two of whom are teenagers and, while cooking delicious recipes, entertains us with stories of her day to day life and sometimes, past life as a mother. And very occasionally further back to her childhood. She is always amusing, taking the trouble and strife of her family in her stride and all the while turning out great food. Do pop on over for her recipe for these slices. You'll find it here.
The base was a little dry but that will be due to my dumb-ass oven. But my Italian husband likes dry cakes and so this one suited him just fine. I guess Italians like their cakes and desserts dry so they can dunk them into their wine. It's a good theory anyway.
In a couple of weeks we are going back to visit family in Italy for three weeks and I intend to test all the cakes and their ice cream will get a good seeing to as well. I will take photos to make your mouths water and report all the culinary delights I encounter. And there will be many.
This is not a low Fodmap recipe.