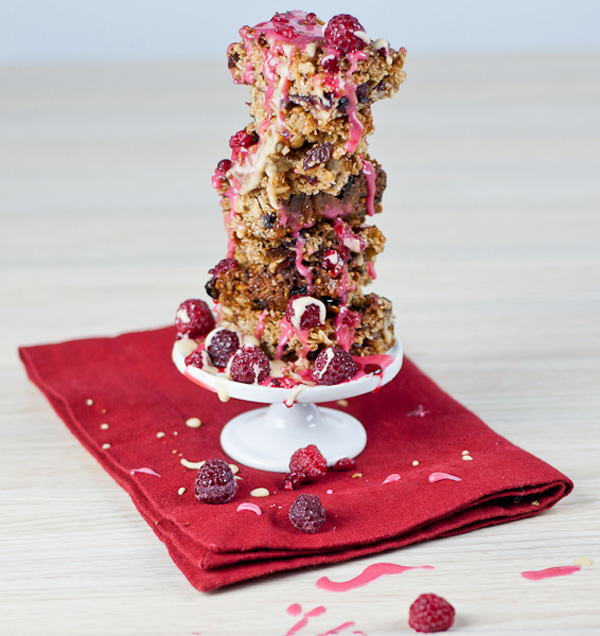 You would think by now I had run out of new granola bar recipes and it could definitely happen. There are only so many dried nuts and fruit out there and the binders must be limited too but so far I have never repeated one.
Adriano and Dario now expect to have the tins (Tupperware container, actually) full so they can stick their hungry hands in there whenever they want and find something to appease their appetites. Last week I made those granola bars filled with caramel and topped with chocolate. That was a mistake – they were all gobbled up by Wednesday because they were too delicious.
I was brought up on a farm where visitors were offered a cup of tea when they dropped by. But never just a cup of tea. The tins were always full on a farm and out would come something sweet to go with the tea. Biscuits, cakes, scones, buns.  A cup of tea was never consumed in isolation – unheard of. You might wonder how we weren't all as big as hippos, but calories are consumed at a much faster rate on a farm. Farmers have to replace them on a regular basis or they will fade away to nothing and we three children had acres and acres of land to run around on. Calories consumed had to be replaced and the best way was through baking. Unfortunately today we don't do that much running, unless a rabid dog chases us down a dark alley and how often does that happen?
So why has baking had such a big resurgence recently? Why are all things natural and not store bought becoming so popular? It's all to do with the economy. When times get tough and the reaching of our dreams fades into the distance, we hunker down and take comfort where we can. And that means baking and consuming large amounts of weight-inducing fats and sugars, just as if we were all farmers running after the sheep and cows, or thrashing at corn. But then we go to work and sit on our expanding arses all day. That equals trouble, trouble for our health and our self-esteem.
It's all about balance. A little indulgence is essential for the soul so we eat something fat-laden and sweet and then we run a 4-minute mile.  Yeah, right. My solution is to ride my go-nowhere bike for ½ an hour five times a week but even that only allows me a small piece of my decadent Saturday baking.
So, when I bake on Sundays, it has to be healthy. It has to be full of nuts, dried fruit and all things health-building. That way when I have my morning teas at work, while I am sitting on my arse, I know I am creating a balance while I nibble at my home-made granola bar. The biking balances the Saturday baking and the Sunday baking satisfies my need for something with my cup of tea, a throw back from my growing up days on the farm.
I adapted this recipe from one I found on Roxanna's Home Baking blog.
Oh, by the way, in case you were wondering who created that stack of granola bars in the photo, that was my son, Dario, the architect. He also placed the raspberries and I drizzled the two icings over the top. It was fun working on it together to create something different.
This is not a low Fodmap recipe.

Caramel Granola Bars - Gluten-free
Author:
Suzanne Perazzini
Ingredients
3 cups rolled oats
1 tsp cinnamon
1 tsp salt
¾ cup walnuts
¾ cup golden raisins
¾ cup cranberries
½ cup coconut flakes
¼ cup pumpkin seeds
¼ cup sunflower seeds
1 tbsp sesame seeds
1 cup almond slivers
¾ cup butter
⅔ cup honey
1 cup brown sugar
Method
Preheat the oven to 350°F.
Line a 10"x 10" baking pan with tin foil.
In a bowl mix the oats, cinnamon, salt, fruit, seeds, nuts and coconut flakes.
In a sauce pan add the butter and honey. Heat gently until the butter has melted.
Add the sugar keeping the pan over the lowest flame your stove has. Stir constantly until the sugar is completely dissolved. Bring the mixture to a boil, and continue to boil for 5 minutes, stirring the mixture occasionally until it has formed a smooth caramel sauce.
Pour over the dry ingredients, mix and scoop into the prepared pan.
Press down the mixture.
Bake for 15 minutes until the edges begin to brown.
Take it out of the oven, let it cool for ½ an hour and then chill in the fridge for a couple of hours.
When completely cooled cut into bars.