I'm a little over cupcakes for the moment so I decided to make my very favourite cake – carrot cake. However, I didn't want to make a full cake. Luckily I found this great recipe for carrot cake cookies sandwiched together with cream cheese icing on the cravingchronicles.com blog. I remember seeing somewhere that if you eat a slice of carrot cake with cream cheese icing, that is basically your calorie allowance for the day if you are not wanting to gain weight. A rather daunting thought but hey, I only bake in the weekend and I have people to help me eat them. There's also something therapeutic about baking and sharing it around.
[print_this]
Carrot Cake Cookies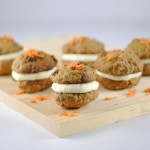 Ingredients:
3/4 cup golden raisins BUY HERE
1 1/4 cups flour
1 1/2 teaspoon cinnamon
1/2 teaspoon ginger
pinch of cloves
1/2 teaspoon baking soda
1/2 teaspoon salt
114g unsalted butter, softened
1/3 cup packed dark brown sugar BUY HERE
1/3 + 3 tablespoons cup granulated sugar
1 large egg
1/2 teaspoon vanilla BUY HERE
1 cup finely grated carrots
1 cup walnuts, chopped BUY HERE
225g cream cheese
4 tablespoons unsalted butter
1 1/2 cups powdered sugar
1 teaspoon vanilla BUY HERE
Method:
Place raisins in a small bowl and add enough hot water to cover. Set aside for 5-10 minutes, then drain thoroughly and pat dry.
In a small bowl, whisk together flour, spices, baking soda and salt.
In the bowl of an electric mixer, beat butter, sugars, egg and vanilla until smooth and fluffy, about 2 minutes. Mix in carrots, walnuts and raisins (drained!). Add flour mixture and blend just until combined. Set dough in refrigerator to chill for 15-30 minutes – this stops it from spreading so much while cooking.
Preheat oven to 200°C. Line a baking tray with baking paper.
Drop 1 1/2 tablespoons of dough per cookie onto baking sheet about 2 inches apart. Bake 13-15 minutes or until centres spring back to the touch. Cool on pan for 2 minutes, then transfer to a wire rack to cool completely.
To make the frosting, pulse cream cheese and butter in a food processor, scraping down sides with a spatula as needed, until smooth. Add powdered sugar and vanilla, and pulse until combined.
If making ahead, store cookies at room temperature and icing in refrigerator. Ice cookies before serving.
[/print_this]