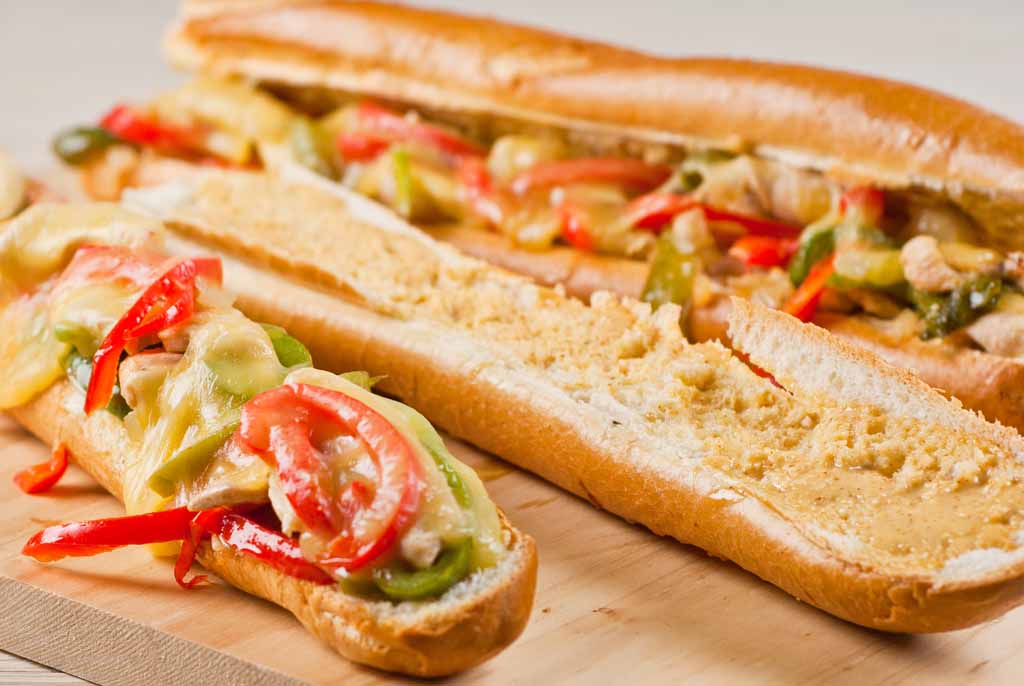 I enjoy looking around other cooking blogs when I have the time and I have my favourites. Many, many blogs concentrate on sweet food and baking. As you know, my blog is about healthy, balanced, quick dinners but I do enjoy looking at the cupcakes from heaven and the luscious cheesecakes but I don't cook them unless I have people over for dinner. Adriano and Dario are not that interested in sweet food and I only have to look at a cake to put on a kilo so that's just as well. Some of them combine the two types of food, and one of them is Confections of a Foodie Bride. You will have seen her recipes on here before and this is another. Adriano said it reminded him of a subway sandwich and he wasn't far wrong.
This recipe is not low Fodmap.

Chicken Cheesesteaks
Author:
Suzanne Perazzini
Ingredients
Chicken breasts - sliced thinly
Olive oil
Worcestershire
Salt & pepper
Onion sliced
1 green pepper - thinly sliced
1 red pepper - thinly sliced
Slices of cheese
¼ cup mayo
3 tbsp spicy brown mustard
2 tsp teriyaki sauce
1 tsp honey
French bread
Method
Fry peppers and onion for about 10 minutes until soft.
Season chicken with salt, pepper and worcestershire.
Remove pepper mixture and fry chicken until cooked.
Throw pepper mixture in with the chicken to reheat it.
Mix the other ingredients (except the cheese) to create a sauce.
Spread sauce on split french bread sticks and fill with chicken and peppers.
Top each with the sliced cheese and throw in the oven for 5 minutes to melt the cheese and warm the bread.