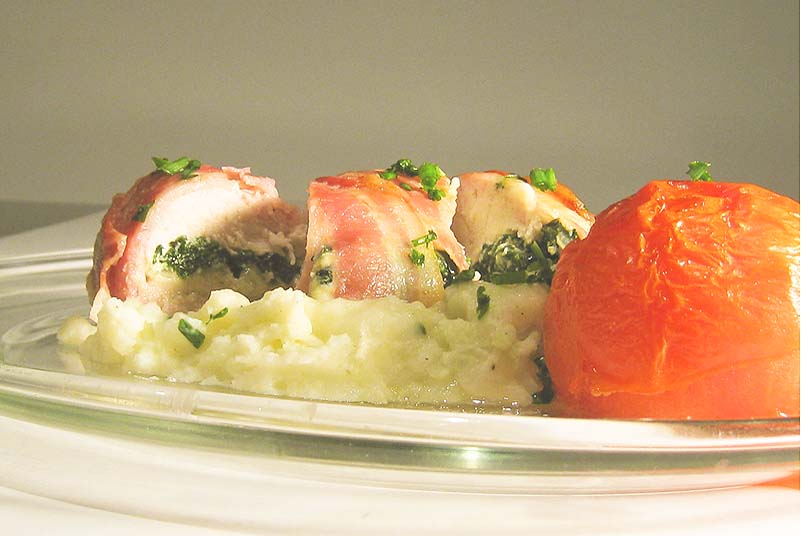 For a change, I'm not making an all-in-one meal, though that is my favourite kind – less dishes, less visual mess. This is a more classic kind of New Zealand meal with an obvious lump of protein and three vegetables – in this case, mashed potatoes, spinach and tomato. But my family would moan if I stuck them on the plate without any creativity. They are used to more complex meals and so this is what I did:
Chicken Stuffed with Spinach & Ricotta - low Fodmap & Gluten-free
Author:
Suzanne Perazzini
Ingredients
Olive Oil
4 Chicken breasts
130g baby spinach
125g cottage cheese
Salt & pepper
4 wide rashers of bacon
1 to 2 vine tomatoes per person
2 cups chicken stock (onion and garlic-free)
4 potatoes, peeled and chopped
1 tsp of garlic-infused oil
¼ cup sour cream
2 tsp chopped chives
Method
Wilt the spinach in a pan until wilted.
Add cottage cheese and mix.
Season.
Slice a pocket into the chicken breasts and stuff with the mixture.
Wrap the chicken in bacon and place in a roasting dish with the tomatoes.
Drizzle oil over the top and fill dish with the chicken stock.
Bake at 180°C/350°F. for 20 – 25 minutes.
Boil the potatoes and then mash them with the garlic oil and sour cream.
Fold chives through and season.
Serve the chicken on a bed of mashed potato and garnish with the tomatoes.