It's Christmas Eve and I have spent a lot of the day baking cookies for little gift bags I want to give to each of the 19 people present at our family Christmas lunch tomorrow. I tested some on Saturday using recipes I found on gluten-free or paleo food blogs but two lots of the resultant cookies were pretty awful so I had to start again with the third recipe, which worked, and two of my own which I have made in the past and know work. Cooking gluten, dairy and refined sugar-free is certainly a challenge but it is doable with a bit of experimentation. It's about tasting the raw batter and adjusting the recipe to make sure the flavour, texture and consistency are good.
The truffles on the top layer of the cake stand my very good friends gave me for Christmas can be found here.
The almond coconut cookies in the front plate in the photo below can be found here.
And the twice-baked biscotti on the bottom of the stand come from the Paleoliscious blog. They are pretty good with bold flavours and a crunchy finish. These I would make again.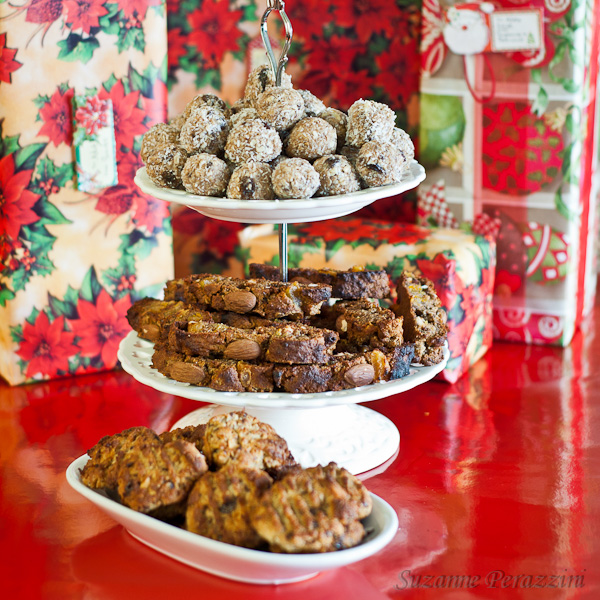 Below are the finished bags wrapped up in cellophane with labels explaining the cookies are gluten, dairy and refined-sugar free and, of course, saying Merry Christmas.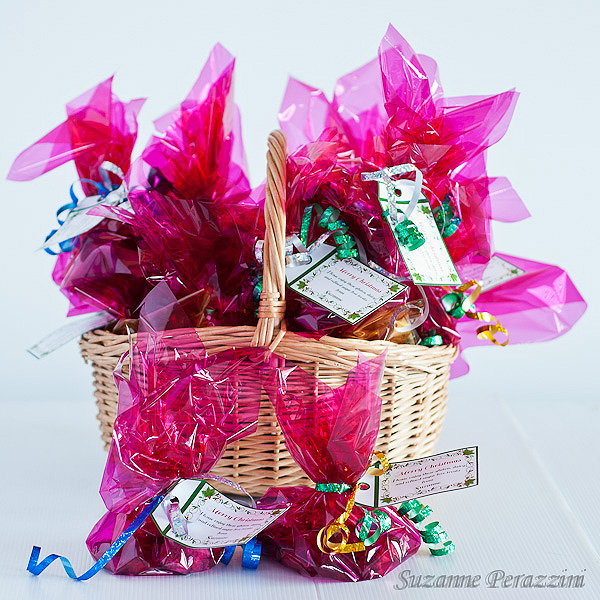 I will be taking photos of our family Christmas here Downunder so you can see snippets of our day, though the pouring rain will not make for good light in the photos. We had hoped to have Christmas lunch at tables out in the garden under the trees but in New Zealand you can never rely on the weather to behave so back up plans are always made. We shall be inside my older sister's house with a ton of food, heaps of presents and lots of conversation. It is one of the few chances in the year to all get together in one place and I am looking forward to it.
Merry Christmas to you all.