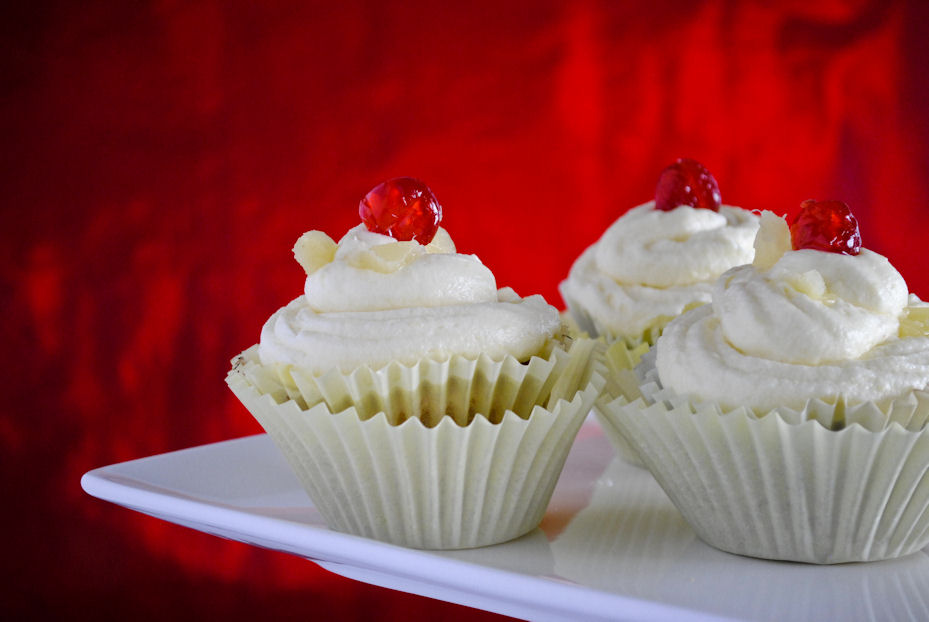 Until the other day, I had never heard of hummingbird cake and now I see it all over the internet. It's weird how that happens. Anyway, the weekend is when I have time to bake and it was the turn of hummingbird cupcakes but I might give them a rest after this lot. I have done enough different cupcakes for a while and there are so many other types of baking to explore. This recipe is a traditional recipe of the southern states of the USA and I found it here.
[print_this]
Hummingbird Cupcakes
12 big cupcakes
Ingredients:
2 cups flour
½ teaspoon baking soda
¾ teaspoon salt
¾ teaspoon ground cinnamon
1 & 1/3 cups mashed banana (2 to 3 large bananas)
2/3 cup crushed pineapple, drained
2/3 cup pecans, toasted and chopped
2/3 cup shredded coconut
1 & 1/3 cups granulated sugar
165g unsalted butter, melted and cooled
1½ teaspoons vanilla extract
2 eggs
Icing:
340g cream cheese
½ cup unsalted butter, at room temperature
1 tablespoon vanilla extract
4 cups icing sugar
Method:
Preheat oven to 190 degrees C. Line standard-size muffin tins with paper liners; set aside.
Mix the flour, baking soda, salt, and cinnamon; set aside. In another bowl, stir together the banana, pineapple, walnuts, and coconut; set aside.
With an electric mixer on medium-high speed, beat the butter, sugar, and vanilla until combined. Add the eggs, one at a time, beating until each is incorporated, scraping down the sides of the bowl as needed. Continue beating until the mixture is pale and fluffy. Add the banana mixture to the egg mixture, beating until combined. Stir in the flour mixture with a rubber spatula.
Divide the batter evenly among the lined cups, filling each three-quarters full. Bake, rotating tins halfway through, until golden brown and a cake tester inserted in the centers comes out clean, about 20 minutes. Transfer tins to wire racks to cool completely before removing cupcakes. (Unfrosted cupcakes can be stored up to 3 days at room temperature in airtight containers.)
Make the icing: Using the whisk attachment, beat the cream cheese and butter at medium-high speed until light and fluffy, scraping the sides of the bowl as needed, about 5 minutes. Add the vanilla extract and mix to incorporate. Reduce the speed to medium-low and gradually add the icing sugar, until it has all been incorporated. Scrape the sides of the bowl and increase the speed to medium-high and whip until light and fluffy, 2 to 3 minutes.
Assemble the Cupcakes: To finish, pipe frosting onto the top of each cupcake (or use an offset spatula to spread the frosting).
[/print_this]