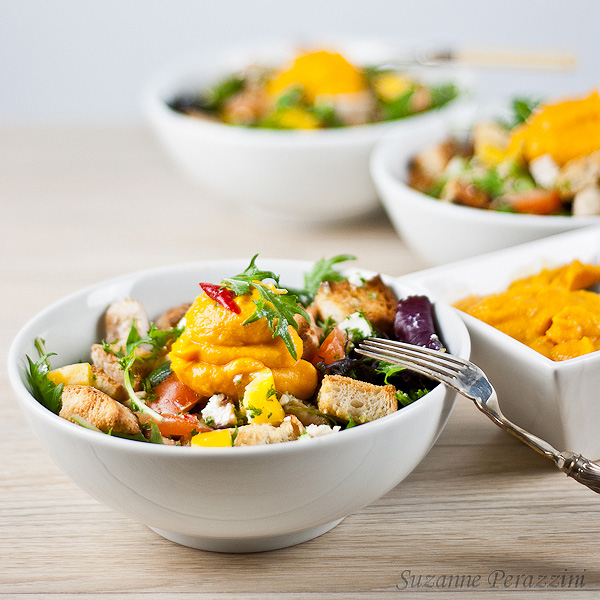 Tonight is leftover night. I asked Adriano to buy a couple of chicken breasts and decided on a very mixed salad with croutons. Nothing too surprising there but then we come to the salad dressing and I had a brilliant idea. I had about a cup of pumpkin puree left over from the Sunday granola bars and 1/2 can of coconut milk from the banana loaf I made on Saturday. I put on my creative chef hat and chucked them both in my trusty mini processor, added lemon juice, mustard and garlic, seasoned it and gave it a whiz. Wow, did it taste good! And once it was mixed into the salad, the salad sure tasted good too. This is wholesome food at its best – and I was the wizard who conjured it up.
[print_this]
Recipe: Chicken Panzanella Salad
Ingredients    
2 chicken breasts
2 tomatoes – cut up
1 avocado – diced or scoop out lumps with a small spoon
3 spring onions – sliced up
Yellow pepper – diced
2 sticks of celery – sliced up small
Parsley, chopped – not too finely
A handful of green salad leaves
100g feta cheese – crumbled
1 loaf ciabatta or thick toast bread
1 red chilli – chopped up small
1 cup pumpkin puree
¾ cup coconut milk
1 tsp dijon mustard
Juice of 1 lemon
2 cloves garlic – crushed
Salt & pepper to taste
Method
Turn the oven on to 350°F/180°C.
Slice the chicken breasts in half lengthwise and cook in a pan or on a grill with a little olive oil. Season after the heat has sealed them so they don't lose too much liquid.
Cube the bread and place on an oven tray and bake 15 minutes. You could drizzle them with olive oil but the dressing will do the job.
Once the chicken is cooked, cut it up and let it cool while you prepare the rest of the salad.
Chop and dice the vegetables as instructed in the ingredients.
Place in a large bowl together with the feta.
Add the croutons and chicken.
Mix the last 6 ingredients with a whisk and serve with the salad as a thick dressing.
Preparation time: 15 minutes
Cooking time: 15 minutes
Number of servings (yield): 4
[/print_this]
Related posts: