Christmas is a wonderful time of year for celebrations and family get-togethers. Yesterday, I decorated our cottage, including the Christmas tree because we have 16 family members coming for Christmas lunch. If you would like to see photos of the decorated house, I have posted them on my Path To Minimalism blog HERE.
Meanwhile, I am posting a recipe of a low Fodmap turkey and stuffing since in New Zealand a Christmas table wouldn't be complete without one. I made this a few years ago, and it was moist and delicious. So, I decided to include it in my cookbook: The Low Fodmap 6-Week Plan & Cookbook, which you can purchase HERE.
I will take a couple of week's break from posting over the Christmas/New Year break so I would like to wish you a Merry Christmas and a Happy New Year. Stay safe and healthy – low Fodmap only!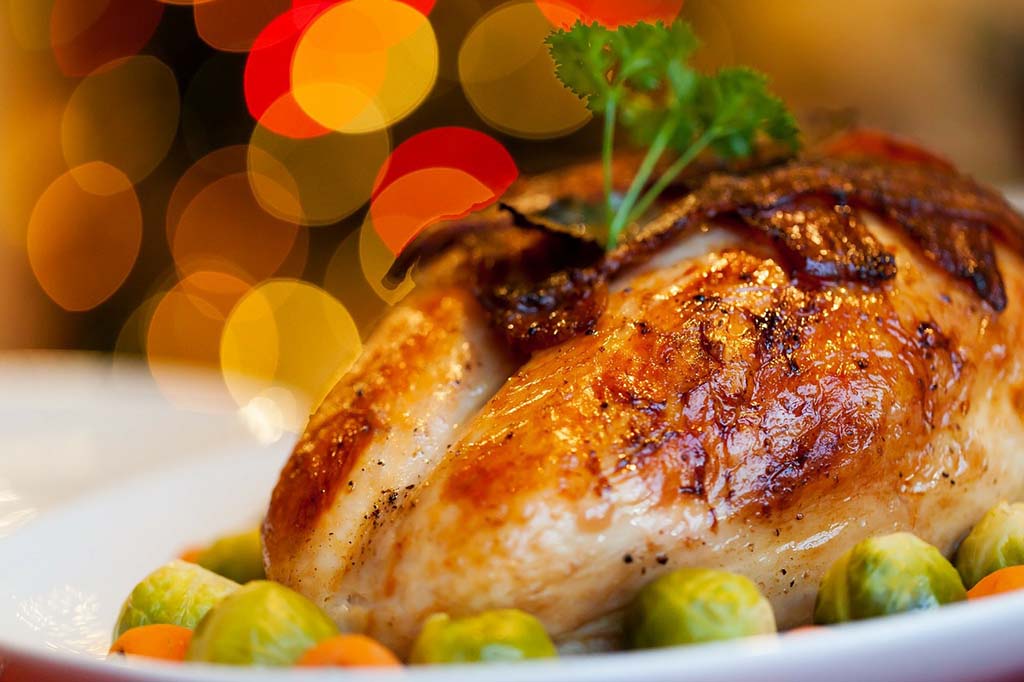 Roast Turkey with Stuffing
Author:
Suzanne Perazzini
Ingredients
Glaze
Rind and juice of 2 oranges
1 tablespoon (20 g) maple syrup
or golden syrup
1 tablespoon (15 ml) fish sauce
Turkey
1 whole turkey, about 10 to 12 pounds
(4.5 to 5.4 kg)
⅔ cup (80 g) dried cranberries
1 heaped (3 g) tablespoon fresh thyme
1 heaped tablespoon (2 g) fresh rosemary
Pinch of nutmeg
Salt and pepper to taste
4 tablespoons (56 g) softened butter
Stuffing
6 tablespoons (84 g) butter
2 teaspoons (10 ml) garlic-infused oil
(omit for reflux)
1 leek, chopped (green parts only)
6 slices of bacon
½ loaf of low-FODMAP bread
3 tablespoons (8 g) finely chopped thyme
3 tablespoons (8 g) finely chopped sage
3 tablespoons (6 g) finely chopped rosemary
Salt and pepper
Lactose-free milk
Method
Glaze
First, prepare the glaze. Place all the ingredients in a small saucepan and bring to the boil. Boil rapidly until thickened.
Remove from the heat and set aside.
Turkey
Remove the turkey from the fridge an hour before cooking.
Preheat the oven to its highest temperature—about 500°F (250°C, or gas mark 10).
Place the cranberries, herbs, nutmeg, salt, pepper, and butter into a food processor and grind to a paste.
Slowly release the skin over the breast of the turkey from the flesh underneath and spoon the processed mixture underneath and massage into place. Skewer the opening shut.
Truss the turkey and rub butter all over it.
Place it in a large baking dish and cover with aluminum foil.
Place in the oven and reduce the temperature to 350°F (180°C, or gas mark 4).
Once an hour, glaze the turkey with the orange glaze.
Roast for 3 hours in total and then remove from the oven.
Cover the turkey with fresh aluminum foil and wrap in an old towel for 1 hour before serving with baked stuffing.
Stuffing
To prepare the stuffing, heat the butter and garlic oil (if using).
Add the leek and bacon. Cook 2 minutes.
Place the bread in a food processor and process into chunks.
Add the herbs, season to taste, mix well, and moisten with a little milk.
Add the leek-and-bacon mixture and combine.
Press into a casserole dish and bake at 350°F (180°C, or gas mark 4) for 1 hour.
Serve hot with the turkey along with some garlic- and onion-free gravy.