Every now and then I remember we are supposed to think about keeping our Omega 3 levels up and the fish shop gets a visit. Salmon is one of the foods with the highest levels available to us, which makes it easy. Except husband and son are not keen on it and I have to work hard to disguise its flavour, which is a shame in my opinion.
Anyway, I scrambled about among the multitude of online food blogs and came up with this recipe from Confections of a Foodie Bride. The recipe has a concoction on top which is flavoursome enough to disguise any base food. The combination of capers, anchovies and the aniseed flavour of fennel would be perfect for this disguising task. The only problem was that Adriano (my personal shopper) couldn't find any fennel and I was left with what I had at hand. In the north of Italy where I lived, we used to boil meat and smother it with a green sauce and that is what I ended up making. I would have liked to have tried it with fennel and will one day, but this green sauce is a great substitute and it worked perfectly with the salmon.
[print_this]
 Coriander Crusted Salmon with Salsa Verde
Ingredients:
2 Tbsp coriander seed
2 tsp fennel seed
1/2 tsp ground black pepper
1/2 tsp salt
4 salmon fillets                                                                                                                                                                                                   Olive oil, for brushing
1/2 cup finely diced fennel
1/2 cup finely diced shallot
1/2 cup flat leaf parsley, chopped
2 Tbsp capers
1 anchovy fillet, minced or 1/2 tsp anchovy paste
Zest and juice of 1/2 lemon
2 Tbsp olive oil
Salt
Pepper                                                                                                                                                                                         
Method:
1. Place coriander and fennel seeds in a small pan over medium high heat.
2. Toast the seeds, shaking the pan frequently, until they begin to brown and are fragrant, about 2 minutes.
3. Let cool a few minutes and then transfer to a grinder or small chopper and coarsely grind.
4. Spread on a small plate and add the salt and pepper mixing well.
5. Brush the salmon fillets with olive oil and dip the top side of each fillet into the spice mixture.
6. Preheat oven to 375.
7. Heat 2 tbsp of olive oil in an oven-safe sauté pan over medium-high heat until very hot.
8. Place the salmon, coriander side down in the hot oil and sear for 2 minutes, until a nice brown crust forms.
9. Flip the fillets and transfer the pan to the oven, cooking for 6-10 minutes, until the fish flakes easily and the centre is almost opaque.                                                                                                                                                                                               10. Meanwhile, combine all the salsa verde ingredients in a medium bowl and toss gently.
11. Divide the salmon between plates and top with a generous scoop of salsa verde.
[/print_this]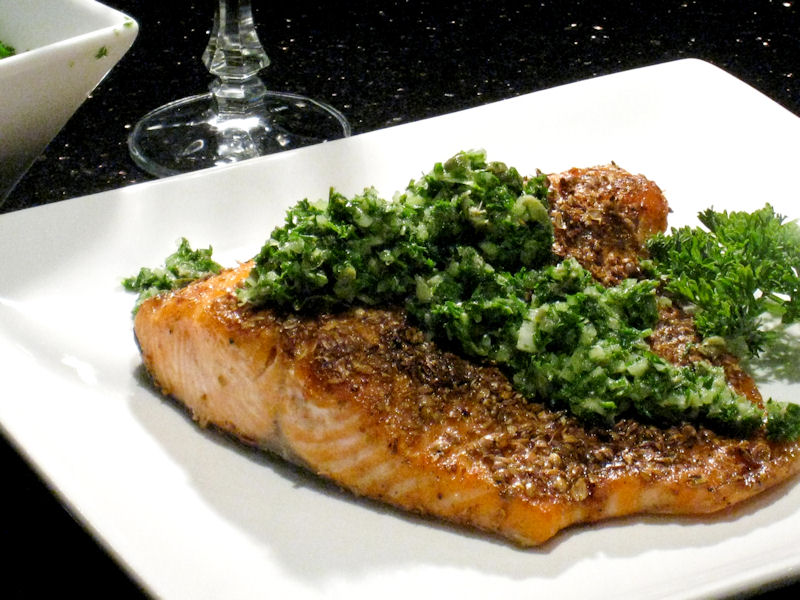 Related posts: