I am doing a whole series of videos on Irritable Bowel Syndrome and the low Fodmap diet, and this is the first one. It talks about the 8 symptoms of irritable bowel syndrome and I explain each of the symptoms and why they happen. You can either watch it here or click through to Youtube in the bottom right-hand corner.

The Recipe
I asked my husband and son what they wanted for dinner and neither came up with anything coherent so I made them this dish and it met with approval. I love the flavours in this salad. I did forget to put the feta on the salad before taking the photo so you will have to imagine it scattered over the top. This is completely low Fodmap including the feta (1/2 a cup is allowed). The layers look pretty for the photo but I then tossed everything into a big bowl so I could mix through the pesto well. Not as pretty but more practical for serving.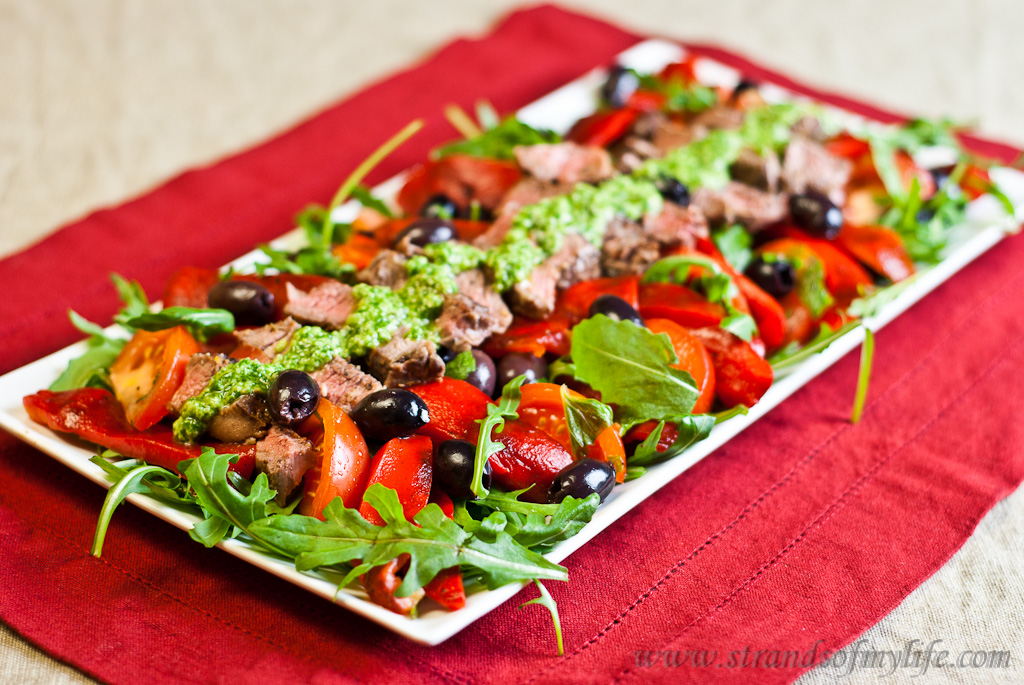 Greek Lamb Salad - Low Fodmap
Author:
Suzanne Perazzini
Ingredients
400gms/14 oz lamb steak
1 tsp dried thyme
Zest of ½ a lemon
Salt and pepper
2 big tomatoes
½ cup black olives
Mint
A packet of rocket
4 tbsp pesto (homemade with garlic-infused oil)
2 tbsp lemon juice
1 tbsp olive oil
2 red bell peppers
150gms/5.3oz feta
Method
Rub the lemon zest, thyme, salt and pepper into the steaks.
Place on a hot grill and cook to seal on the outside but take off with the meat pink on the inside.
Rest 10 minutes.
Slice into ½"/1.25cm thick pieces
Place the two peppers on an open flame and keep turning to blacken all the skin.
Cool and rub off the skin.
Slice into strips.
Slice up the tomatoes.
Rip the mint into pieces.
Cut the feta into cubes.
Place all the ingredients into a serving bowl or layer on a big platter.
Combine the pesto, lemon juice and olive oil to make a dressing.
Drizzle the dressing over the platter or toss the salad in the bowl to combine all ingredients with the dressing.
Related posts: