Tonight I managed dinner in under 30 minutes but no, it wasn't one of Jamie Oliver's, I am sorry to say. This was super simple for a change. I didn't feel like I was tying myself in knots trying to beat some kind of record. But I will go back to Jamie Oliver because it is a challenge and his food is truly delicious. The man knows his flavours.
[print_this]
Middle Eastern Prawn Salad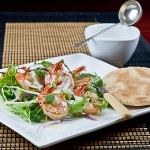 serves 4
Ingredients:
Lebanese bread rounds
Olive oil
Salt & pepper
24 raw peeled prawns, tails intact
2 tsps Moroccan spice
Mixed salad leaves
Cucumber – thinly sliced
1 red onion
1/2 cup fresh mint leaves
200g plain yoghurt
2 tbsp lemon juice
2 tsp extra olive oil
Method:
Brush both sides of the bread with olive oil and place on an oven tray. Cook in a 200°C (360°F) oven 5 minutes on each side.
Place prawns in a bowl with 1 tbsp olive oil and the spice. Toss to coat.
Cook prawns in a little olive oil for 2-3 minutes.
Mix the yoghurt, lemon juice and extra olive oil in a bowl for the dressing. Season it.
Combine salad leaves, cucumber, sliced red onion and chopped mint in a large bowl.
Top with prawns and drizzle with the dressing.
Serve with the warm Lebanese bread.
[/print_this]
Related posts: