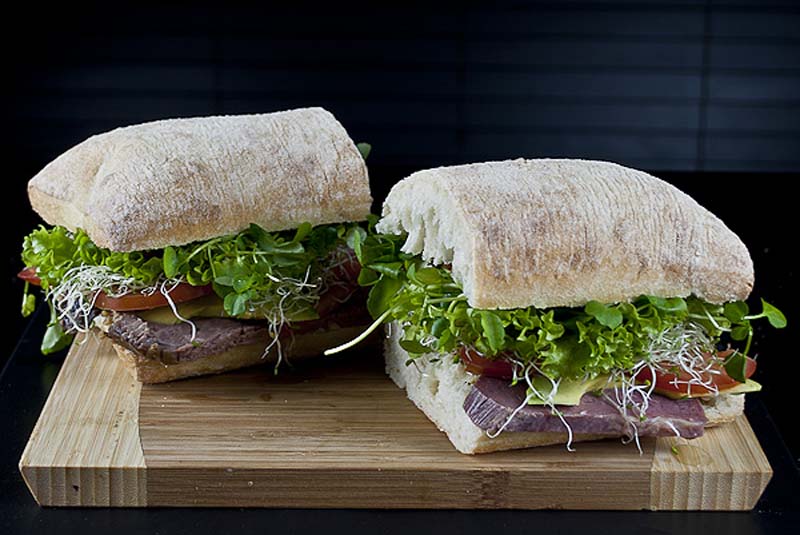 There was just Adriano and me tonight so I decided to do a left-over dinner, which always feels great. It clears out the fridge so I can start afresh. I asked Adriano to buy a ciabatta and I filled it with roast beef, tomato slices, avocado, salsa from last night, horseradish, alfalfa sprouts, lettuce and water cress. I made him two other sandwiches with cut bread because I knew 1/2 a ciabatta loaf would not be enough and, in fact, he ate the lot.
I'll be back to a Jamie Oliver 30-minute meal tomorrow night and it will be Pregnant Jool's Pasta. It looks like something I might finally be able to make in 30 minutes. I will let you know.

Beef & Salad Ciabatta Sandwich
Author:
Suzanne Perazzini
Ingredients
1 Ciabatta
4 or 5 thick slices of roast beef
2 tomatoes
1 avocado
Horseradish sauce
A few tbsp of salsa
Alfalfa sprouts
Watercress
Lettuce
Salt & Pepper
Butter (optional)
Method
Cut the loaf in half and slather one side with horseradish sauce.
Layer the beef, tomato slices and avocado slices. Season.
Place the greens on top and finish off with the salsa.
Place the other side on top and cut in half.