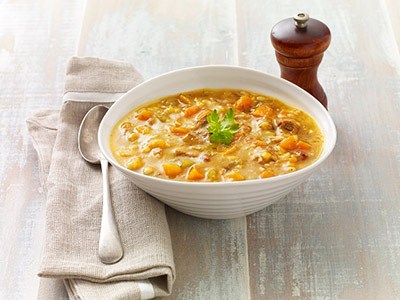 I usually do the inventing of the low Fodmap recipes and then post them here for you to re-create. But, today I am telling you about a meal I had the other night that took only a few minutes to prepare. Fodmap Friendly sent me some samples of low Fodmap food to try from Fodmapped and this lamb and vegetable soup was among them. It is low FODMAP, gluten Free, with no garlic or onion, no added MSG, no artificial colours, flavours or preservatives – exactly how we have to eat with IBS. The ingredients are: water, pumpkin (19%), lamb (12%),
carrot (11%), celery (5%), brown rice, corn starch, glucose, salt, canola oil, yeast extracts, natural beef extracts, herbs, pepper and spices.
I am delighted to say that it was delicious and very wholesome. In fact, I made some cheese on toast to go with it because I wasn't sure it would be enough for us, but it really was a meal on its own. You can read more about it HERE.
For their products go to the Fodmapped website and see if they can be found close to where you live. They are mainly in Australia and New Zealand but I know they are in the process of expanding worldwide.
Disclaimer: I am not being paid to give a review of this soup but did receive it as a gift. My opinion is given freely and I would never recommend anything I had not tried and tested myself.