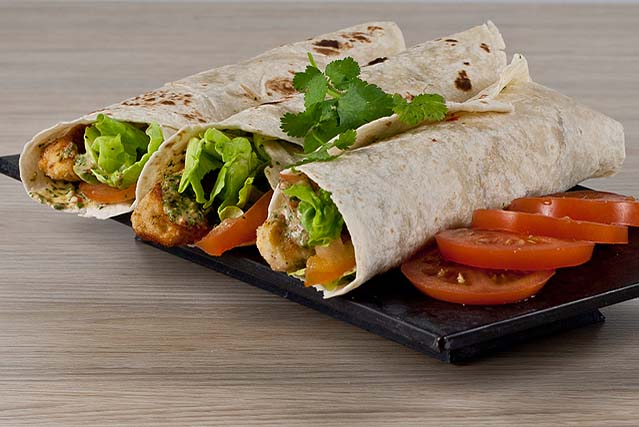 I love wraps of all kinds. Both because they taste good and because it seems like an easy, quick meal. Mind you it depends on what you put in them. A simple filling is a bought sauce, tomatoes, lettuce and sliced meat. A more complex one is like these ones I prepared tonight. I made the sauce and breaded and cooked the chicken. It was an invented combination and it worked well despite the slight crossover of cuisines. Wraps are open ground for a fertile imagination and you can stretch your cooking muscles as far as you want. I'm sure you all have your favourite fillings too.
This not a low Fodmap recipe.
Chicken Wraps with Coriander, Chilli & Ginger Sauce
Author:
Suzanne Perazzini
Ingredients
500g/17 oz Chicken tenderloins
Breadcrumbs
1 egg
Flour
Salt & pepper
A head of lettuce
2-3 Tomatoes
A handful of coriander
1 red chilli
A knob of ginger
Lemon juice
1 clove garlic
Olive oil
Flat breads – suitable for wraps
Mayonnaise
Method
Coat the tenderloins first in flour, then dip in beaten egg and coat in breadcrumbs mixed with salt and pepper.
Fry in a little oil until cooked through.
Throw the coriander, chilli and garlic into a mini food processor and chop together. Add a little lemon juice, olive oil and season to taste. This should make a spreadable sauce.
Lay out the wraps and spread a thin layer of mayonnaise over them.
Add a layer of the herb sauce on top of the mayonnaise.
Wash the lettuce and dry thoroughly, then place a leaf or two on top of the sauces.
Wash and slice the tomatoes and lay a layer lengthwise along one edge, leaving the end free for folding over. Don't add too many or the wrap will be difficult to roll up. Season the tomatoes.
Next place the chicken along the length of the wrap next to the tomatoes.
Fold over the end of the wrap which is free of the tomatoes and roll up tightly.
Secure with toothpicks if necessary but remember to remove them before eating the wrap.