I had family for dinner last night and cooked a completely low Fodmap meal. I know that scares those of you on a low Fodmap diet and you have no idea where to start and think you have to cook "normal" food when people come over to eat. That is so not true and I will walk you through what I served and how it is low Fodmap. Obviously my family know I am on a low Fodmap diet but if you had guests over who knew nothing about your health issues, they would never guess from this meal.
Tomato & Pesto Polenta Bites
We started out with these tomato and pesto polenta bites while we all sat up at the kitchen bench and drank our first glass of wine. Just make sure you fill your glass with ice cubes first – that way you can have a second glass later. Otherwise, it is is one glass total for the evening and then you pass onto water, which is the very best drink for those of us on this diet anyway.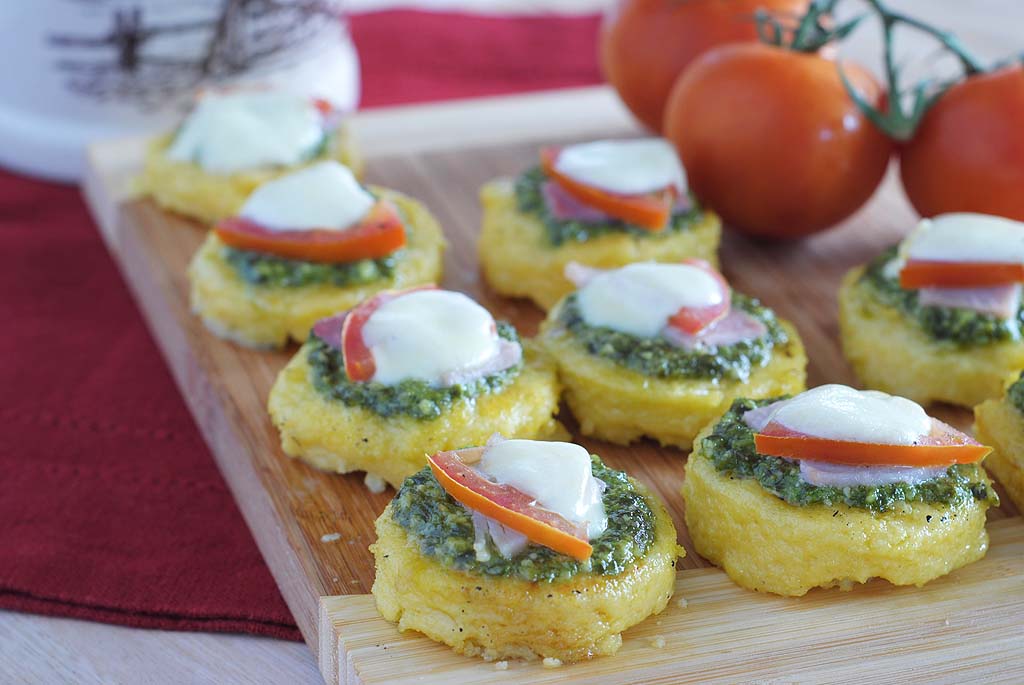 Pesto, Tomato Polenta Bites - low Fodmap
Author:
Suzanne Perazzini
Ingredients
Homemade pesto using garlic-infused oil instead of garlic cloves
1 big slice of ham
Several small bocconcini mozzarella balls
2 tomatoes
500ml water
Polenta
Method
Boil the water and very slowly, mixing all the time, pour in polenta until it thickens and stirring becomes tough. Then stop pouring in polenta, let it cook until it is smooth to the taste, stirring all the while. Instant polenta will be quicker than the classic polenta.
Remove and immediately pour onto a big chopping board.
Smooth it out as much as possible to an even thickness – about ¾ inch/2cm.
Using a small glass, cut out rounds and oil them lightly.
Put them onto a hot grill and leave until grill marks appear. Do both sides.
Slather on a little pesto and top with a small piece of ham, a ¼ of a slice of tomato and ½ a tiny bocconcini mozzarella.
Place under the grill for about 5 minutes until the cheese is melted.
Serve with a lovely cold glass of wine.
Beef & Roasted Pepper Bruschetta
Then we moved on to beef and roasted pepper bruschetta. So yummy you could devour several of them. You need to either buy or make gluten-free bread for these. You can find the recipe for these HERE. I used mozzarella instead of the feta in the original recipe but both ways are delicious.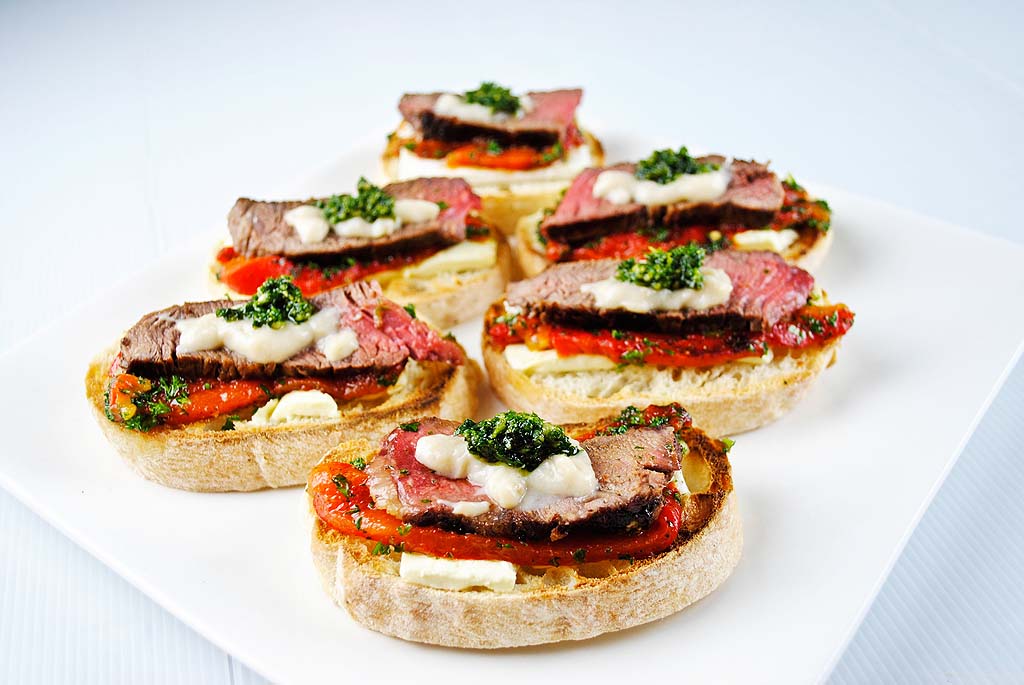 Thai Chicken Salad
Once we had eaten all of that and our plates were empty, I decided perhaps we should actually sit up at the table and be a little more civilized so we adjourned to the dining table with the next course – Thai Chicken Salad and freshly baked tapioca rolls.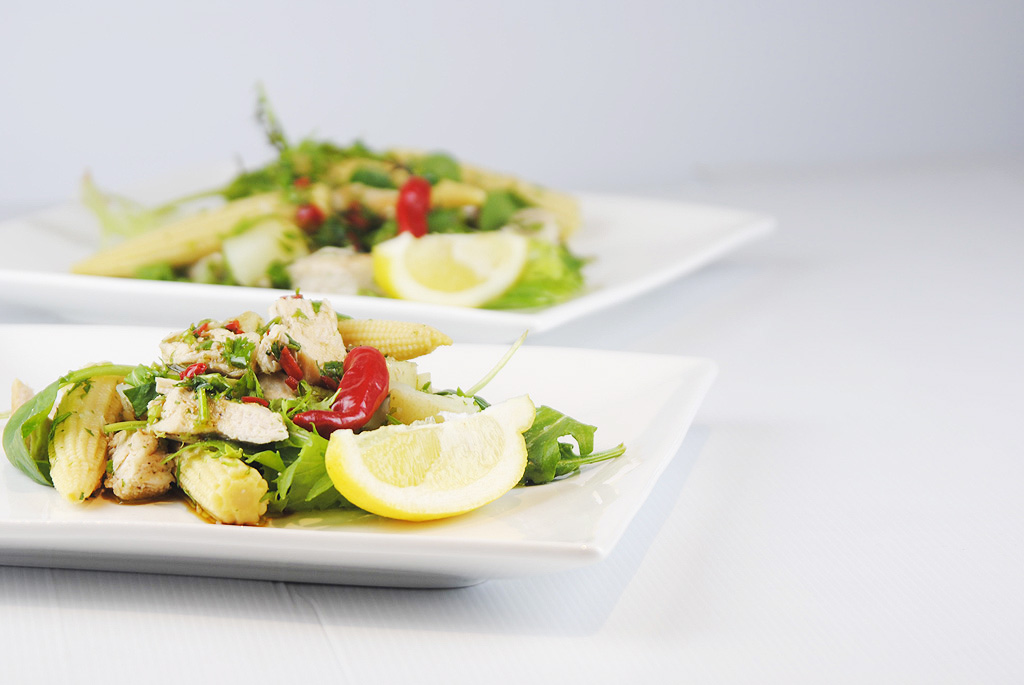 Tapioca Bread Rolls - low Fodmap
Author:
Suzanne Perazzini
Ingredients
⅔ (two-thirds) cup of olive oil
1 cup of water
1 tsp salt
1.5 cup of tapioca flour
1.5 cup of white rice flour
2 eggs
2 tsp of cumin seeds (optional)
Method
Sift the two flours and salt together.
In a pot combine the olive oil and water and bring to a boil.
Remove from heat and add in the flour mix.
Mix thoroughly then add the cumin seeds and egg and mix well to combine.
Knead the dough into a ball. (This takes a little effort.)
Divide into 6 pieces and mound them into a burger bun shape. (They won't change size.)
Place the rolls on baking paper on an oven tray and bake at 350°F or 180°C for 35 - 40 minutes.
Sorry about the polenta bites image being in the bread roll recipe but it enters automatically and I don't know how to get it out of there.
Blueberry Sour Cream Tart
Anyway, to finish off, because no meal is complete without dessert, we had blueberry sour cream tart with a dollop of cream. As I have said a few times now, I am not lactose intolerant so can eat dairy. Only 25% of those with a Fodmap intolerance are lactose intolerant.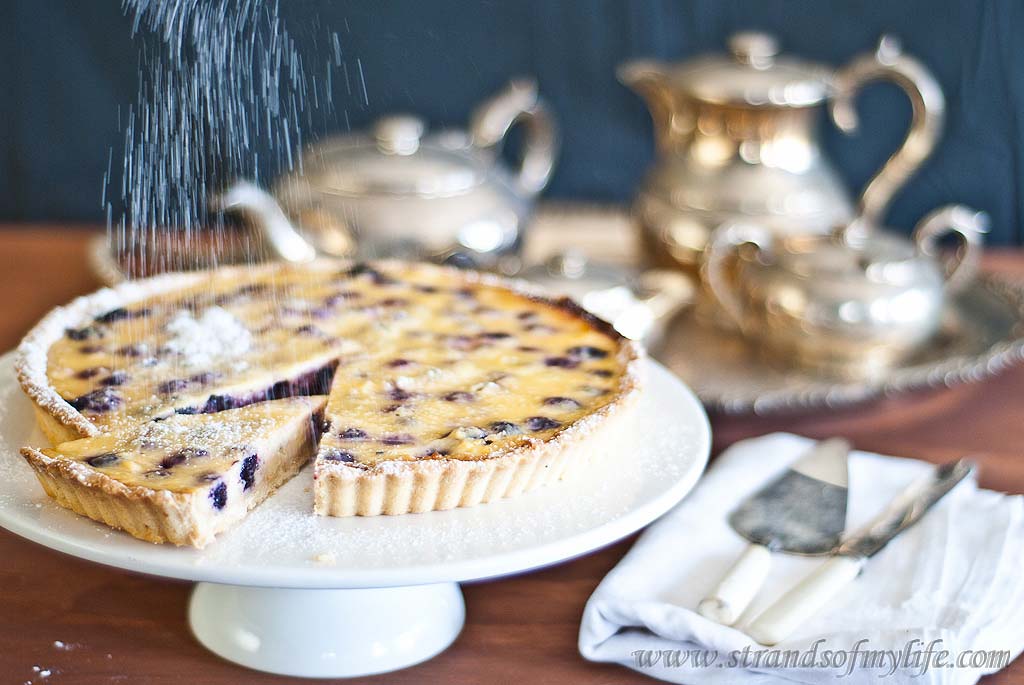 So there you go – a feast fit for a king and all low Fodmap. The dessert, breads and chicken salad were prepared in advance and much of the preparation for the rest was out of the way by the time the guests arrived so there was minimal cooking once we got going. A happy time was had by all and I completely forgot to take a photo of us at the table.