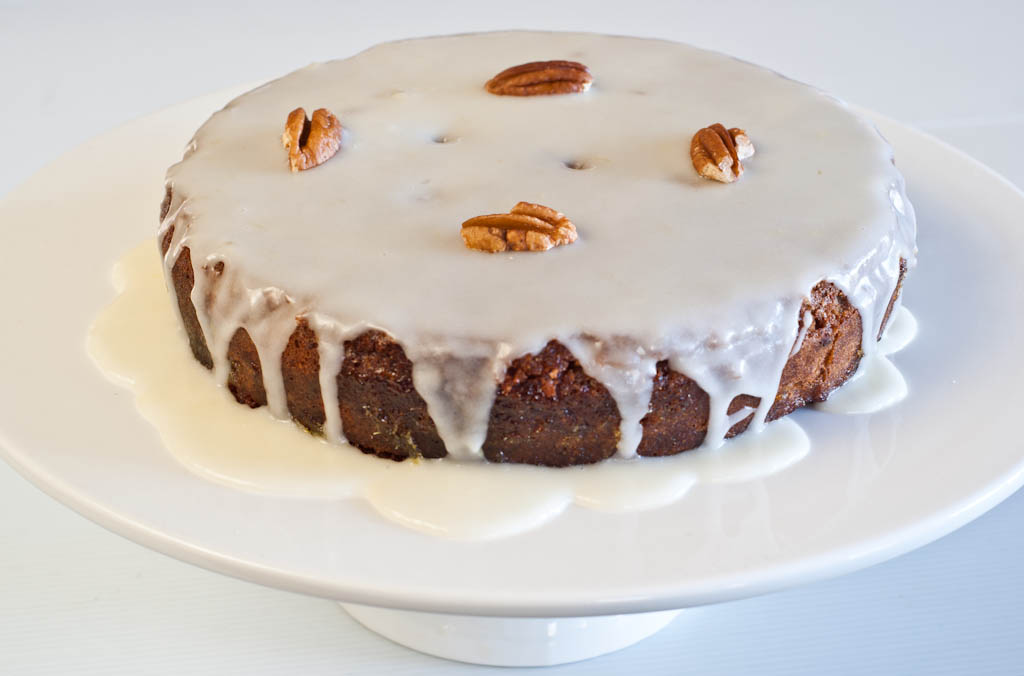 This moist, easy-to-make low Fodmap chocolate-orange cake is perfect with a cup of tea or coffee. If you feel that fructose is one of your biggest symptom-triggers, leave out the orange syrup; it'll still be delicious. Be sure to stick to one slice per serving. This recipe comes straight from my book, The Low FODMAP 6-week Plan & Cookbook, which you can buy online or in bookstores. Here it is on Amazon.

Chocolate and Orange Polenta Cake
Author:
Suzanne Perazzini
Ingredients
For the cake
5.3 ounces (150 g) butter, at room temperature
5.3 ounces (150 g) superfine granulated white sugar
3 eggs
1½ (8 g) tablespoons cocoa powder
1½ tablespoons (25 ml) hot water
⅓ cup (32 g) ground almonds
½ teaspoon baking powder
1 teaspoon ground cinnamon
⅓ cup (47 g) quick-cook fine-grain polenta
1 tablespoon (6 g) grated orange peel
½ cup (55 g) chopped pecans
12 whole pecans
For the syrup
Juice of 1 orange
1.8 ounces (50 g) granulated sugar
For the glaze
1 cup (120 g) powdered sugar
1 to 2 tablespoons (15 to 30 ml) orange juice
Water (if needed)
Method
First, make the cake. Preheat the oven to 325°F (170°C, or gas mark 3). Grease a 7.5-in (19 cm) springform cake pan and line with parchment paper.
Beat the butter and sugar together until pale and fluffy, about 5 minutes. Beat in the eggs, one at a time.
Mix the cocoa with the hot water and stir until dissolved. Then fold into the butter mixture.
In a separate bowl, combine the almonds, baking powder, cinnamon, polenta, and orange peel.
Add the wet ingredients to the dry ingredients and stir in the pecans.
Spoon the mixture into the cake pan and bake on the middle shelf of the oven for about 35 minutes or until a toothpick inserted into the center comes out clean. Allow to cool slightly in the pan.
Then, prepare the syrup. Combine the orange juice with the sugar in a small saucepan. Bring to the boil and simmer, stirring regularly, for 5 minutes or until slightly reduced and thickened.
Make holes in the cake with a skewer and pour syrup over the cake while it is still hot. When cool, remove the cake from the pan.
Finally, prepare the glaze. Mix the powdered sugar and orange juice to form a thin paste. Add water if necessary to reach a runny, pourable consistency.
Pour the glaze over the cooled cake and let it drip over the edges.
Garnish whole pecans.
Allow the glaze to set and then serve.
Store in an airtight container for 2 days or freeze in slices for 2 to months.