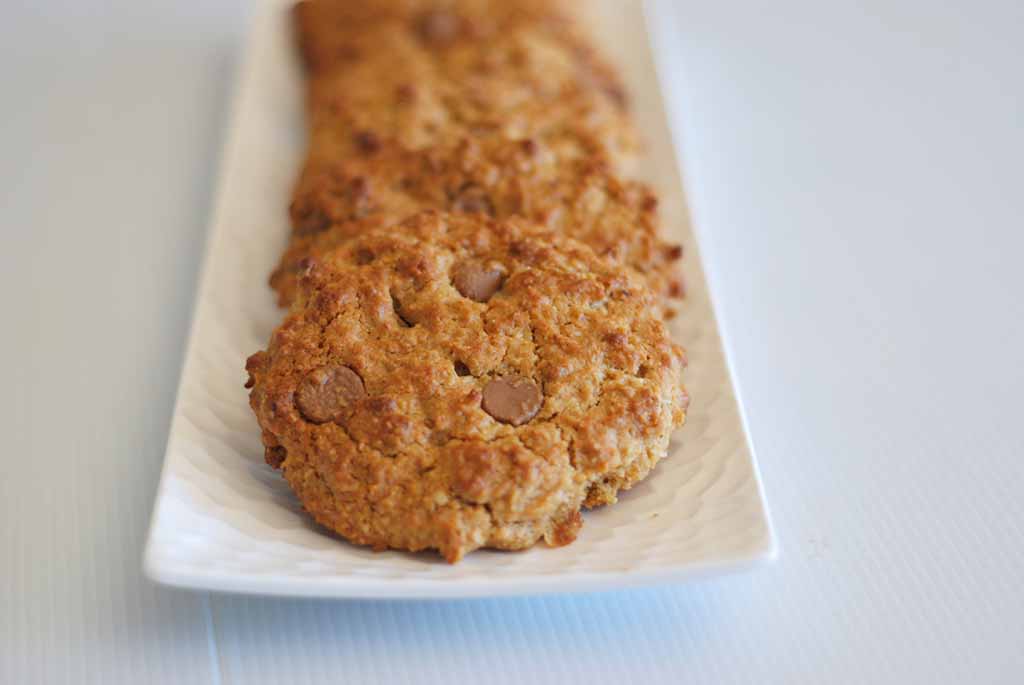 Baking has become the new pastime during lockdown as can be evidenced by the lack of flour on the supermarket shelves. That includes me. I have made Anzac biscuits, ginger crunch and several batches of peanut butter, chocolate chip cookies because they are so delicious and satisfying. Use dark chocolate and a plain peanut butter with no additives including salt and sugar. Make small cookies or eat only half if they are larger.
Today, the New Zealand government announces whether we are lowering to level 2 lockdown (of 4 levels) so that the country can almost completely open up again, but still with the borders shut. NZ has had between zero and two daily cases  of the virus for the last week, and all the cases can be traced to a known contact. In other words, we have no community transmission. Things are finally looking up – in this part of the world at least.

Chocolate Chip and Peanut Butter Cookies
Author:
Suzanne Perazzini
Ingredients
1 cup oats
¼ cup almond meal
¾ cup desiccated coconut
1 cup chocolate chips or drops
¼ cup rice flour
⅛ cup tapioca flour
⅛ cup potato starch
¾ tsp baking powder
¾ tsp baking soda
Pinch of salt
1 cup peanut butter (no sugar)
¼ cup oil
½ cup white sugar
¼ cup maple syrup or golden syrup
2 eggs
1 tsp vanilla essence
Method
Heat oven to 180°C/350°F.
Mix the oats, coconut, chocolate chips and almond meal.
Sift the next 6 ingredients into the oat mixture.
Mix together the next 6 ingredients in a separate bowl to make a smooth mixture.
Add the wet ingredients to the dry and blend lightly.
Place spoonfuls onto baking paper on a baking tray.
Push into a circular shape and flatten a little.
Bake for 6-8 minutes until golden on top.
Transfer to a wire cooling tray until firm.