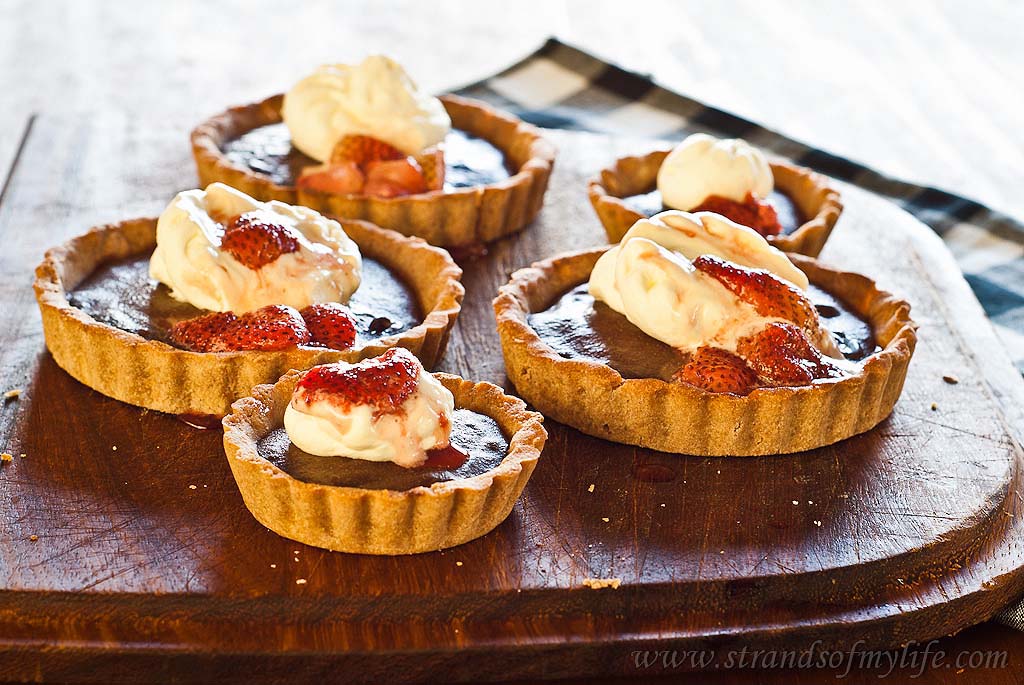 I am back to tarts again. Don't ask me what it is about them because I really don't know. They take longer to make than muffins or a cake so why do I insist on making them? Maybe it is some deep memory of childhood that calls me to them, maybe it's the creativity of being able to fill them with an endless variety of goodness. Who knows?
For this tart, I used the pastry recipe for blueberry almond tarts. And then I made a delightful, simple and healthy chocolate banana filling which takes all of 5 minutes to prepare and doesn't require cooking. You will thank me for this idea.
This post will be short and sweet because time is short tonight after taking one and a half hours to get home – a trip which usually takes 10 minutes in non-rush hour and 30 minutes in rush hour. Our one and only motorway going north over the Harbour Bridge to the North Shore of Auckland where we live was closed for 14 hours. Yes, the north bound side was completely closed for 14 hours because the police shot a runaway criminal after a 200 km chase. Even in New Zealand we have moments of excitement – albeit negative excitement. The main problem is that there is basically no other way across the water to the centre of the city where most of us work unless we want to make a massive detour to the end of the western motorway and then proceed towards town. Hence, an event like this paralyzes more than half the city into a massive gridlocked mess. But we did eventually get home though we could have walked faster and now I have to rush through this post so I can get on with the rest of my night's activities.

Chocolate Banana Tarts - gluten-free and low FODMAP
Author:
Suzanne Perazzini
Ingredients
3 bananas
1 tbsp maple syrup
2 tsp vanilla
¼ cup coconut oil
⅓ cup cocoa
Method
Melt the coconut oil if it is solid.
Place everything in a food processor and process until smooth.
Spoon into the cooked and cooled pastry shells.
Refrigerate until cold.
Serve with a little cream ( a little is low Fodmap) and a few stewed strawberries.