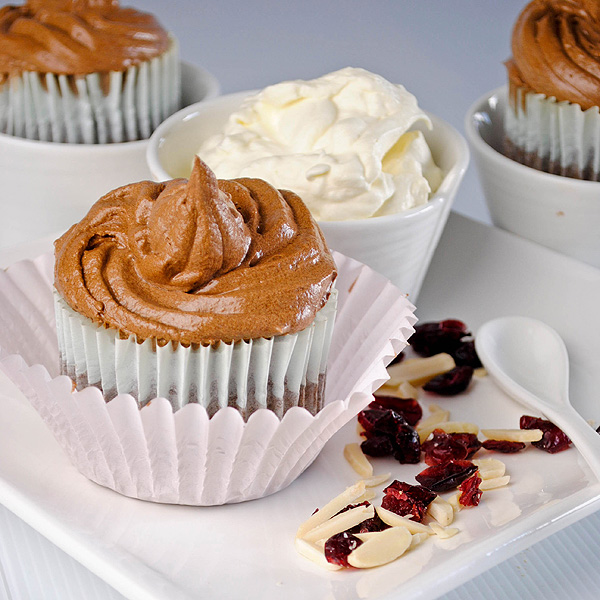 I have been toying with the idea of trying a few gluten-free recipes. I don't think I am gluten intolerant but it's an interesting concept to try just in case because maybe I can feel better than I do. You don't really know until you try. I found this recipe at one of my newest favourite food blogs – My Kitchen Stories. I loved the idea of using leftover cooked rice as the starch and I just had to try it. I was definitely worried while making them because it just felt all wrong but they actually turned out fine though they rose into strange shapes but the icing covered all sins. The family haven't tried them yet so the verdict hasn't come in.
[print_this]
Chocolate Rice Cupcakes
Ingredients:
250gm cooked rice
250 gm caster sugar
1 tbsp golden syrup or honey
6 eggs
1 tsp vanilla
200 gm almond meal
50 gm cocoa
1 tsp baking powder
Method:
Put the rice and sugar into the food processor and process till smooth.
Add the eggs, vanilla, almond meal, cocoa powder and baking powder . Mix till combined.
Pour into cupcake papers 3/4 full, or into a 23 cm ( 10″) cake tin and bake at 180(350 F) deg for 15-20 minutes.
Chocolate Icing:
300gm dark chocolate
1 cup of heavy or thickened cream
Heat the cream in a saucepan till warm but not boiling. Take off the heat and add the chocolate. Stir till melted. Cool. Beat in an electric mixer until light and fluffy. Pipe or spread onto the cakes.
[/print_this]