I was a little disappointed in the last granola bars I made and intend to try various different recipes until I find a good one but meanwhile last night I was taken by an urge to make a banana loaf. I was home alone and couldn't be bothered making dinner just for myself so I baked the loaf and ate a slice – delicious. Not that I would recommend this as a balanced meal but it did have protein (eggs), fruit (cranberries, lemon and bananas) and carbs (flour). The only sugar was 1/2 cup of honey with the rest of the sweetness coming from the fruit. I found this recipe here.
[print_this]
Cranberry & White Chocolate Banana Bread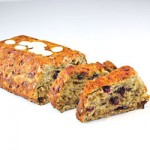 Ingredients:
2 cups whole wheat flour
1 tsp of baking soda
1/2 tsp of salt
1/4 cup of canola oil
1/2 cup of honey
1 tsp vanilla
1tsp of lemon juice
2 eggs
3-4 ripe bananas mashed
1 cup of white chocolate chips
1 cup of dried cranberries
Method:
Mix the wet ingredients together (eggs, honey, lemon juice, vanilla, mashed bananas and oil). Then add the dry ingredients (flour, baking soda and salt).  Add the chocolate and cranberries and mix the wet and dry ingredients together.  Do not over mix.
Pour batter into a well greased loaf pan and put into a 180C degree oven for 40-50 minutes or until done.  Cool a little then slice and serve.
[/print_this]