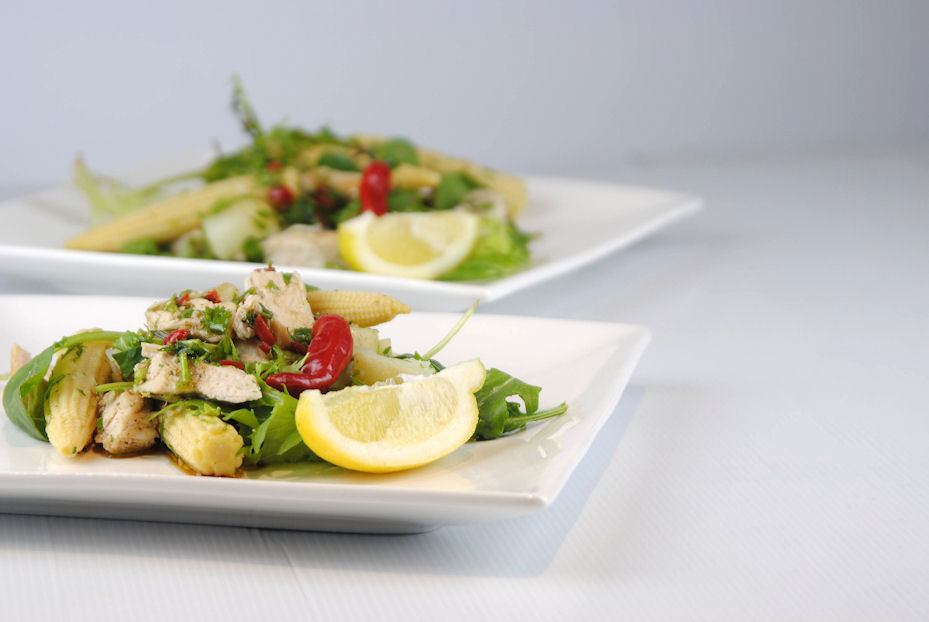 After a weekend of banana loaf and salted caramel apple cupcakes, I felt a strong need for a simple salad dinner. I love thai flavours, especially red chillies and coriander, which is my favourite herb so I made a dressing combining them with lemon juice, sesame oil and soya sauce. That turns any combination of salad ingredients into a Thai-style dish. I have been to Thailand but only for a short time before travelling overland into Cambodia and need to go back to explore the culinary delights that Thailand is famous for. Until then I make it up.
Thai-Style Chicken Salad
Author:
Suzanne Perazzini
Ingredients
400g new potatoes, chopped up
A can of baby corn
3 spring onions, sliced (green ends only)
2 cooked chicken breasts, sliced
2 tbsp chopped coriander
Salt & pepper
Wedges of lemons as a garnish
For the Dressing:
6 tbsp of sesame oil
2 tbsp lemon juice
1 tbsp soy sauce
1 tbsp chopped coriander
1 chilli, deseeded and finely sliced
Method
Boil the potatoes until tender, drain and cool.
Cook the chicken breasts in a pan with a little olive oil, then slice up.
Combine all the ingredients in a large bowl.
Mix the dressing ingredients well and pour over the salad.
Garnish with the lemon wedge and a few extra coriander leaves.