Travelling with irritable bowel syndrome can be a nightmare and our focus is often on the location of toilets. In this video I give you some useful tips on how to find them.

Transcript of the Video
How do I make sure I can find restrooms when travelling?
Here are some tips for finding the restrooms, and planning your trip so you're never without one.
If you're taking a car trip, contact tourist boards or an auto club to find
restrooms on your route.
Obtain a good map of the city you're visiting, and make a note of areas
that may have public restrooms: tourist info centers, shopping malls, hotels, and restaurants.
Be sure your travel companions are aware of your condition and ask them to scout for restrooms for you.
If all else fails, don't be afraid to ask to use the restroom in a shop or other establishment even if there is no public one available. A polite request and an explanation that you are feeling ill usually does the trick even if there is only a staff toilet.
Learn how to ask for the restroom in the native language.
Some countries have pay toilets, so be sure to have change on hand just in case.
Carry extra tissues or wet wipes in case there is no toilet paper available (this tip is important whether you're traveling across the world or just to your local supermarket).
Many public restrooms aren't clean or well-stocked. Carry a travel pack containing extra undergarments and trial sizes of toilet seat covers, wet wipes, antibacterial hand wash, extra toilet paper, and anything else you might need. If you need to make a dash for the toilet, you can just grab your bag and be off.
---
Spinach and Mince Pasticcio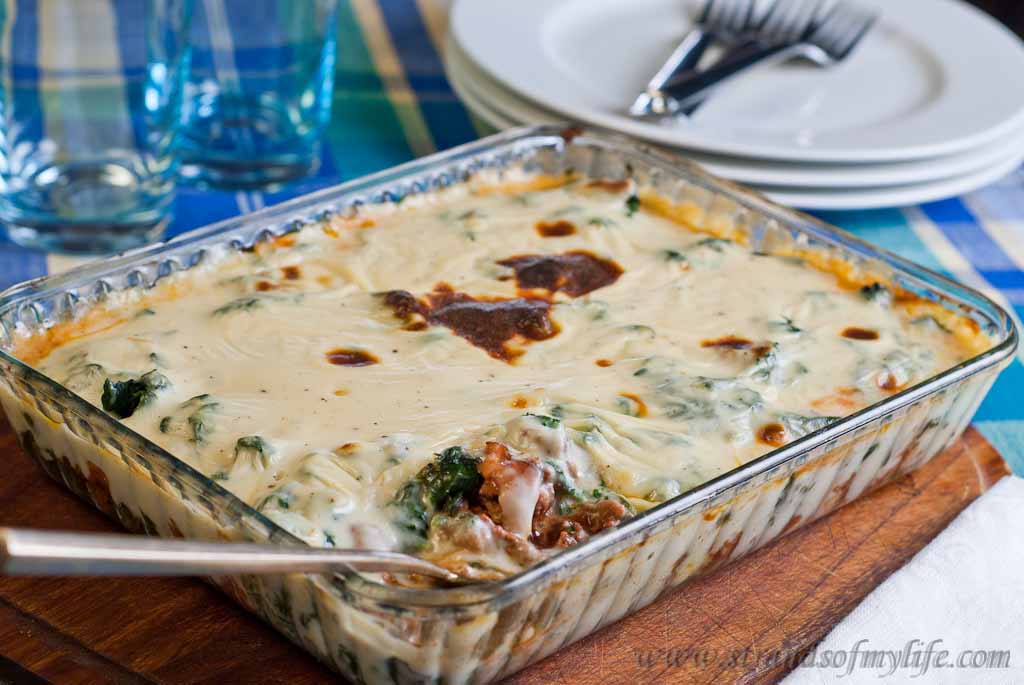 This recipe is an Italian one from my little green book and it is called  a "pasticcio" of spinach and mince. Pasticcio is an Italian word and means "mess" and that's exactly what this looks like when it is served but the taste more than makes up for the appearance. You have heard before about my crazy expensive oven. Well, right there before your eyes is evidence that it is loopy. Why does this have two spots of very brown sauce with very little other browning anywhere? Now you have to believe that it is not just my imagination or poor cooking.  That oven needs seeing to.

Spinach and Mince Pasticcio - Low Fodmap
Author:
Suzanne Perazzini
Ingredients
600gms/21oz frozen spinach
600gms/21oz mince meat
1 tsp garlic-infused oil
1 tbsp cooking oil
½ cup white wine
1 can (420gms/15oz) of peeled tomatoes
Mature cheese
Salt & pepper
For the white sauce
1 tbsp white rice flour
1 tbsp butter
Lactose-free milk
Salt & pepper
Method
Heat the oven.
Place the oils in a frying pan and heat.
Add the mince and brown it.
Add the wine and burn off the alcohol.
Add the tomatoes and season.
Cook for 5 minutes.
Cook the spinach just a little.
Squeeze all the water out.
For the white sauce
Melt the butter.
Add the flour and stir until mixed in and it forms a ball of dough.
Add milk slowly, mixing in between to make sure it gets well mixed in before adding another lot. Stop adding when it gets to the consistency of thick cream.
Add about ¾ cup grated cheese and heat to melt.
Season to taste.
To assemble
Oil a baking dish.
Place half the spinach on the bottom.
Cover with all the meat mixture.
Place slices of cheese on top.
Add the rest of the spinach.
Pour the white sauce over the top.
Place in the oven until the top is browned.