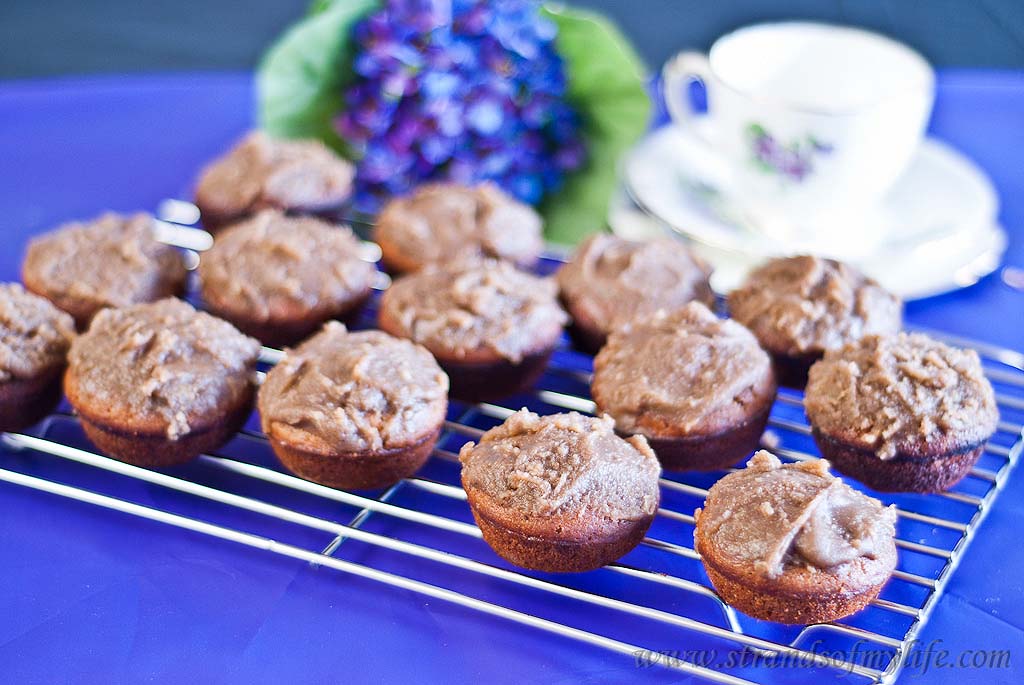 I have cracked the gluten-free muffin recipe! Yes, seriously. These muffins were just as moist the day after and taste super delicious – that kind of delicious where you have to have another one. I have used yet another vegetable and I am convinced that these mashed vegetables are the key to success. Sweet potato was the lucky choice this time and it worked a treat. I have popped a rather delicious icing on top so those on a low FODMAP diet must only have one or maybe, at a push, two a day, or that fructose load will get too high. Speaking of which, I now have a low FODMAP page on this blog so those of you who get confused by this term can click on it and be enlightened.
I was able to get this page up and to do a bunch of other things because I have had this last week off work. It has been a little bit of blissful heaven even though I have worked my butt off. The interesting issue is whether I would feel this way if this was a permanent situation or whether I feel this way because I know it is a short interval in my life. I think the former but I have no evidence to back this up. What do you think?

Ginger & Sweet Potato Muffins - gluten-free & low FODMAP
Author:
Suzanne Perazzini
Ingredients
2 eggs
¾ cup sugar
1 cup coconut oil
¾ cup golden syrup
2 tsp ginger
1 tsp cinnamon
½ tsp baking soda
1.3 cups white rice flour
⅓ cup tapioca flour
⅓ cup potato starch
2 tsp baking powder
1 tsp lemon juice
250 gms/8.8ozs cooked mashed potato
1 cup warm water
For the icing:
75 gms/2.65oz butter
4.5 tbsp golden syrup
3 tsp ginger
1.5 tsp cinnamon
1.5 cup sifted icing sugar
Method
Preheat oven to 350°F/180°C.
Oil a set of muffin tins.
In a bowl beat together the eggs, sugar, oil, lemon juice and golden syrup with egg beaters.
Sift all the dry ingredients together.
Add the wet to the dry ingredients and mix thoroughly.
Place the potato and water in a food processor and process until smooth.
Add to the main mixture.
Spoon into the muffin tins and bake 16-18 minutes until cooked through.
Remove gently from the muffin tins and cool on a rack.
Repeat until you have used up all the mixture.
Place all the icing ingredients into a saucepan and heat until melted.
When the muffins are cool and the icing has cooled a little, spread on top of the muffins.
Leave to set and enjoy. These will last longer than the usual day so freeze some of them and leave the rest out to be enjoyed.