I've been worried for a while about the sugar, fat and salt content in the muesli bars I eat for morning tea. I have always chosen the low calorie ones with high fibre but there's no getting away from the high levels of the less desirable ingredients. So tonight I baked some granola bars which have only 1/4 cup of honey and no other sugar. The only fat is in the 1/4 cup of peanut butter and there's no salt (the peanut butter had no added salt or sugar). They obviously don't taste as sweet as the bought ones but they tasted fine.
[print_this]
Granola Bars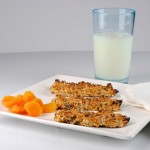 Ingredients:
1/4 cup honey
1/4 cup peanut butter
1/2 tsp vanilla
1 1/4 cups rolled oats
1/4 cup raisins
1/4 cup dried apricots
2 tbsp sunflower seeds
2 tbsp slivered almonds
2 tbsp sesame seeds
Method:
Place peanut butter, honey and vanilla in a bowl and microwave for 45 seconds. Stir.
Mix other ingredients and stir in the peanut mixture.
Press into a 20cm x 20cm square tin.
Bake at 190C degrees for 10-15 minutes. Cool 5 minutes and slice into bars.
[/print_this]