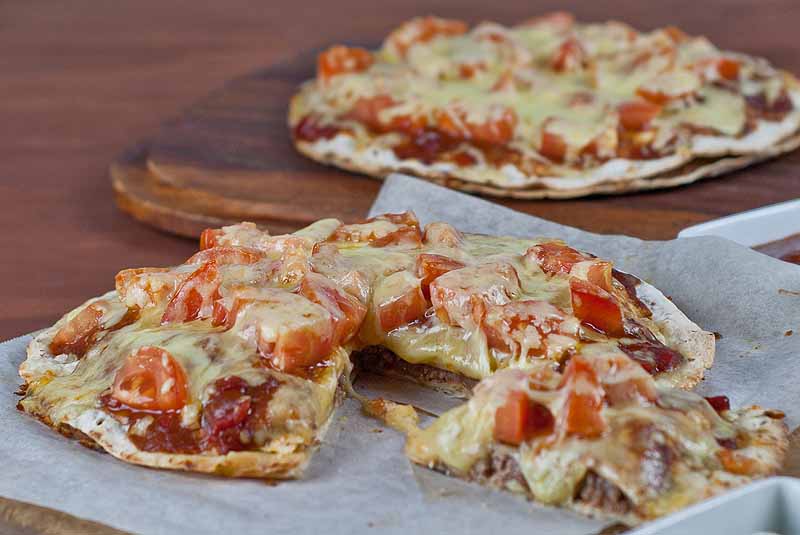 I am still on a wraps track since I have more packs to use but I couldn't do the same thing again or I would get bored with myself. So I flicked around the web a bit and saw the classic Mexican meal of refried beans and mince meat in tortillas with enchilada sauce or something similar. I have made stacks of tortillas before with cheese, ham and tomatoes so why not with the usual Mexican suspects. This is the result.
This is not a low Fodmap recipe.
Mexican Tortilla Stack
Author:
Suzanne Perazzini
Ingredients
1 x 400g can of refried beans
500g mince meat
Mexican spices
2 tomatoes
1 cup grated mozzarella
1 cup enchilada sauce
4 whole wheat tortillas
Method
Preheat oven to 250°F/180°C
Fry the mincemeat in a little olive oil.
When browned, add some Mexican spice and fry a little then add some water and sprinkle with a little flour to thicken the sauce.
Heat the tortillas in a dry hot frying pan on both sides.
Heat refried beans in the microwave for 1½ minutes.
Place two tortillas onto baking paper on an oven tray and spread the refried beans over them. Top with the mince meat.
Place another tortilla on top of each one.
Spread the enchilada sauce evenly on top of the tortilla.
Chop up the tomatoes finely and place on top of the sauce.
Scatter the cheese over everything.
Place the oven tray into the preheated oven and cook about 10 minutes until the cheese is melted.