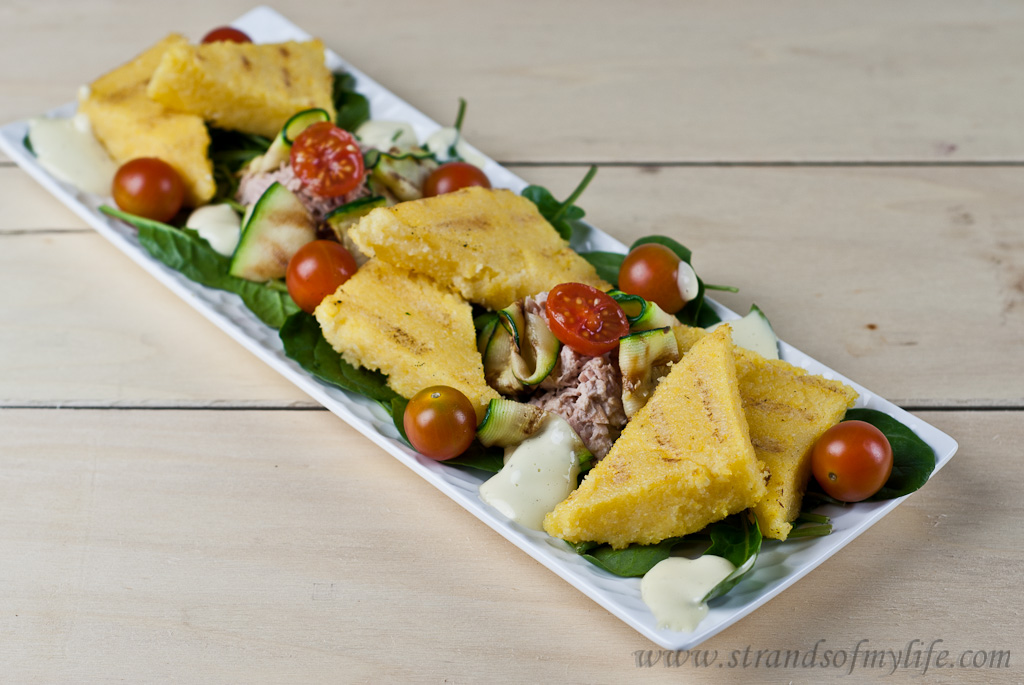 On a low FODMAP diet, the choice of foods you can safely include in your recipes is limited and so it's necessary to use a little imagination when preparing meals or you will quickly become bored. So this dinner has the same good old staples of polenta, courgettes, tomatoes and fish but I have presented them differently on long plates as separate elements. This makes the food more appealing than the usual mash up of everything mixed together. This was an easy meal to create though I did make my own mayonnaise as it simply tastes so much better than anything you can buy ready-made.
I am off work this week for a break and I am busy catching up on a million and one things related to this blog and to my writing. One of the things I did yesterday was to start a new Facebook page for my novels. I would love you to drop by and like the page to help it on it's way. You can find it here: Suzanne Perazzini – Author

Polenta Triangles and Tuna Salad - gluten-free and low FODMAP
Author:
Suzanne Perazzini
Ingredients
250 gms/8.8oz instant polenta
450gms/15.8oz canned tuna
Punnet of cherry tomatoes
Mixed baby salad leaves
1 courgette
For the mayonnaise
1 large egg
½ tsp of each - salt, pepper, dried mustard
2 tbsp lemon juice
½ pint/500mls oil
Method
Cook the polenta according to the instructions on the packet.
When cooked, pour it out onto a large wooden board and spread to about 1"/2.5cm thick. Leave to cool a little.
Cut the polenta into triangles and grill on a lightly oiled grill on both sides.
Place all the mayonnaise ingredients into food processor except the oil and process.
Slowly add the oil in a thin stream while the processor is going.
Mix the tuna with as much mayonnaise as you like and leave the rest to use as a dressing.
Using a potato peeler, create long thin slices of courgette and place briefly on a lightly oiled grill to cook.
Place the various elements of the dish on the plates in any way you prefer and drizzle with the mayonnaise.