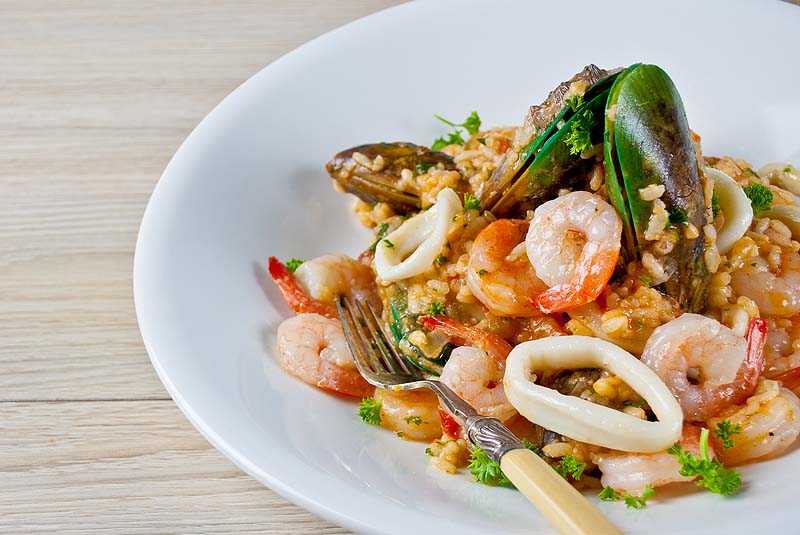 Eating seafood dishes evokes memories from the past when my parents owned a fish processing factory, where I worked in the university holidays. We processed mainly lobsters. They were a common food for our family and we became quite spoilt. Now, it is only on rare occasions that we can justify spending the exorbitant amount necessary to buy one but fortunately there are many other forms of seafood that are just as delicious. Adriano has a mountain biking race on Sunday and he has to start loading up on carbs so tonight I made a risotto with mussels, king prawns and calamari rings. Dario protested at having to remove the prawn tails and open the mussels but a mother can't spoon feed her son forever. He is 21 after all.

Seafood Risotto
Author:
Suzanne Perazzini
Ingredients
¼ tsp saffron threads
400g/14 oz can of diced tomatoes
¼ cup olive oil
2 spring onions, finely chopped (green part only)
1 tsp garlic-infused oil
½ tsp smoked paprika
1 ½ cups Arborio rice
1 litre (4 cups) chicken stock (garlic and onion-free)
12 fresh mussels, scrubbed & de-bearded
300g calamari rings
500g peeled raw king prawns
½ cup chopped fresh parsley
Lemon wedges to serve
Method
Place stock and saffron in a large saucepan. Bring to the boil. Stand 5 minutes to infuse.
Add tomatoes. Return to the boil. Remove from the heat. Reserve 1 cup and set aside.
Heat 2 tbsp olive oil and the garlic oil in a large saucepan to heat.
Add spring onion and paprika. Cook stirring until soft.
Add rice, cook for 1 minute.
Add 1 cup hot stock. Cook until all liquid is absorbed.
Continue adding stock 1 cup at a time until all stock has been absorbed and rice is tender (about 25 minutes).
Add the reserved stock with the mussels. Cook, stirring for 2 minutes or until the mussels are all open.
Meanwhile heat the remaining oil in a frying pan and add prawns and calamari. Cook, stirring, for 3 minutes until just cooked.
Stir calamari and prawns into the risotto.
Serve with lemon wedges.