This is what we ate last night – a deconstructed gluten-free burger with polenta instead of bread buns. No one in our family missed the buns. There's no need for a recipe because polenta is made according to the instructions on the packet, the chips were baked in the oven, the salad was assembled in two minutes and the meat patty was just that – seasoned minced beef, though I did add some cumin powder and cumin seeds because I love cumin. If you have good minced meat, there is no need to add anything else except seasoning. This was a meal I could eat without any qualms and everyone was happy with it. I am starting to get the hang of this.
When I visited the dietician following my food intolerance breath tests, she said that it was wise to take a holistic approach to my issues because of how much other factors like stress impact on the digestive system. So I have made a few changes and one of those is regarding my working position.
I sit at a desk for up to 8 hours a day in front of a computer at work and then go home and, apart from exercising and cooking dinner, I sit for another 3 ½ hours blogging and marketing my blog as well as doing other computer-based projects I am involved in. This adds up to a lot of sitting and I have often worried about it. I was brought up on a farm where movement was a natural part of the day. For much of my adult life, I have taught and that was also an active job compared to office work. The last seven years have been spent behind a desk and I have seen significant changes in my health – for the worse. I know that is part and parcel of getting older but all this sitting just feels wrong.
So last week I decided to create a standing desk at home. That is, Adriano created a standing desk for me. Last Sunday, we moved the construction into place under my existing desk and I have been standing ever since when home.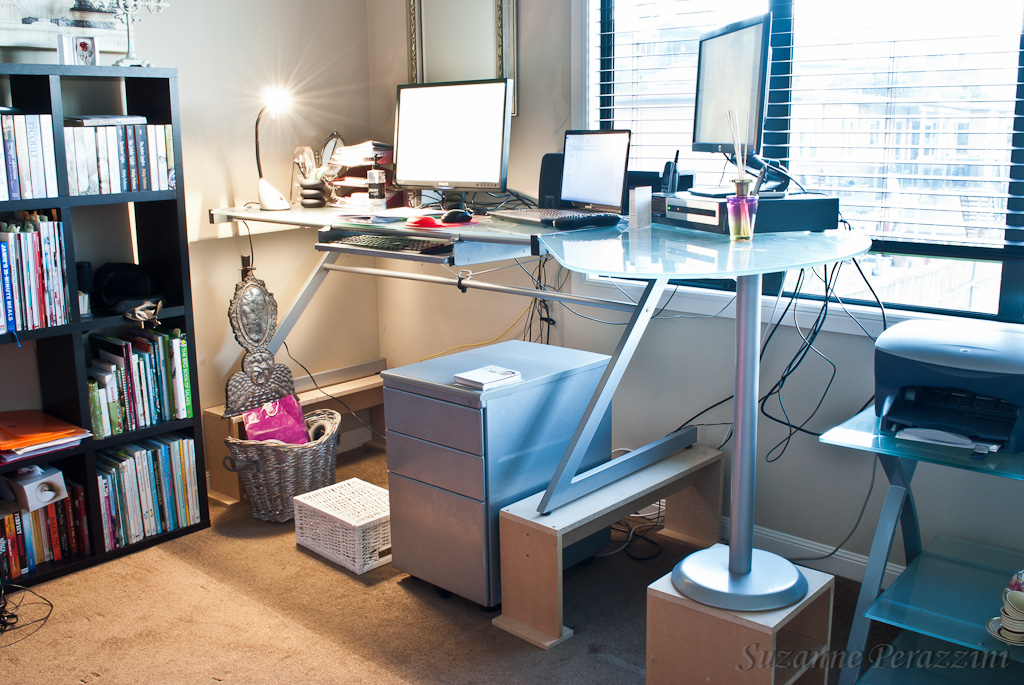 Yes, my feet and legs get tired but this means I move about a lot more, consuming calories and making the blood flow. I have a small overturned basket under my desk for resting one foot on to ease the back if necessary. Already this is starting to feel normal after only a few days and my feet are coping quite well but we do have a thick carpet with good underlay and I wear well-padded shoes.
Why am I doing this?
Studies have been done which show that sitting greatly increases the rate of mortality, especially from cardiovascular disease, diabetes and obesity. The main study shows that people who sit for most of the day are 54%  more likely to die of heart attacks. That's because sitting shuts down the circulation of a fat-absorbing enzyme called lipase. Scientists have found that standing up helps distribute the lipase through movement, which causes the body to process fat and cholesterol. Another interesting part to this study is that the results were the same whether a person exercised or not. Exercise doesn't cancel out the effects of sitting for hours a day. The damage has already been done.
A few influential people who have stood at their desks by choice:
Writer, Ernest Hemmingway
Politician, Winston Churchill
Newspaper magnate, James Murdoch
Former Twitter developer and founder of BankSimple, Alex Payne
Creator of Instapaper, Marco Arment
Podcaster extraordinaire, Dan Benjamin
Novelist, Philip Roth
Former U.S. Secretary of Defense, Donald Rumsfeld
The author of Lolita, Vladimir Nabokov.
Here are some interesting links where you can read more about this topic and the studies which have been done.
Think about this, do the research to see what is being said and then think about whether this could benefit you too. I will let you know how I progress with this new desk situation and whether I can see or feel the benefits.