Adriano got an upgrade to business class for most of his flight to Italy, a new prince has been born, our capital – Wellington – is shaken to the core by quakes and this is day two of being at work without my boss or co-worker and I am as busy as ever and have had a headache all day. Good and bad things happen and life goes on. It's probably the sore head that is making me feel philosophical. And now the question is – will a glass of wine help or worsen the situation? I am sure my headache is from tight neck muscles and wine is a muscle relaxant so wine it is.
The recipe tonight has no specific ingredient amounts because it's not really necessary to be precise. I have a special fondness for stacked food. Like with tarts and layered sweet treats, it is that visual thing – stacks look pretty. I love polenta as a base because it is FODMAP friendly and cuts out beautifully to form any shape you want. I then fried up a few courgettes and added some cream cheese I had in the fridge which made a nice firm mixture to sit on top. Then came slices of delicious smoked salmon and, of course, a sauce is necessary. Sour cream is a great combination with salmon for its tartness. I sprinkled capers on top and a few toasted pine nuts for their buttery crunch.
This is a simple but good-looking dish that will be appreciated by all.
Update: I drank the wine and my headache is gone for the first time today. Remember this, folks next time you have a headache from tight muscles – drink wine. But not if you are  about to drive. Stay close to your bed.
Salmon & Courgette Stacks
Ingredients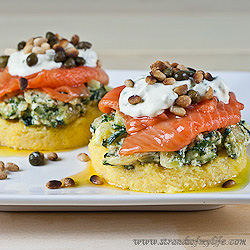 Polenta – BUY HERE
Courgettes
Cream cheese
Parsley
garlic-infused olive oil BUY HERE
Salt & pepper
Smoked salmon BUY HERE
Capers
Pine nuts BUY HERE
Sour cream
Lemon juice
Method
1. Chop up the courgettes and fry in a little rice bran oil and garlic-infused olive oil.
2. Add about 1 tbsp of cream cheese and season.
3. Finely chop some parsley and add most of it to the courgettes.
4. Cook the polenta according to the instructions on the packet.
5. Turn out onto a wooden board and flatten to about 1″/2.5cm thick.
6. Cut out rounds and place on a serving plate.
7. Place spoonfuls of the courgette mixture on top of the rounds.
8. Layer slices of salmon over the courgettes.
9. Mix the sour cream with a teaspoon or two of lemon juice, season and add the rest of the parsley.
10. Place a spoonful of the sauce on top of the salmon.
11. Sprinkle with capers.
12. Toast the pine nuts and sprinkle over as well.