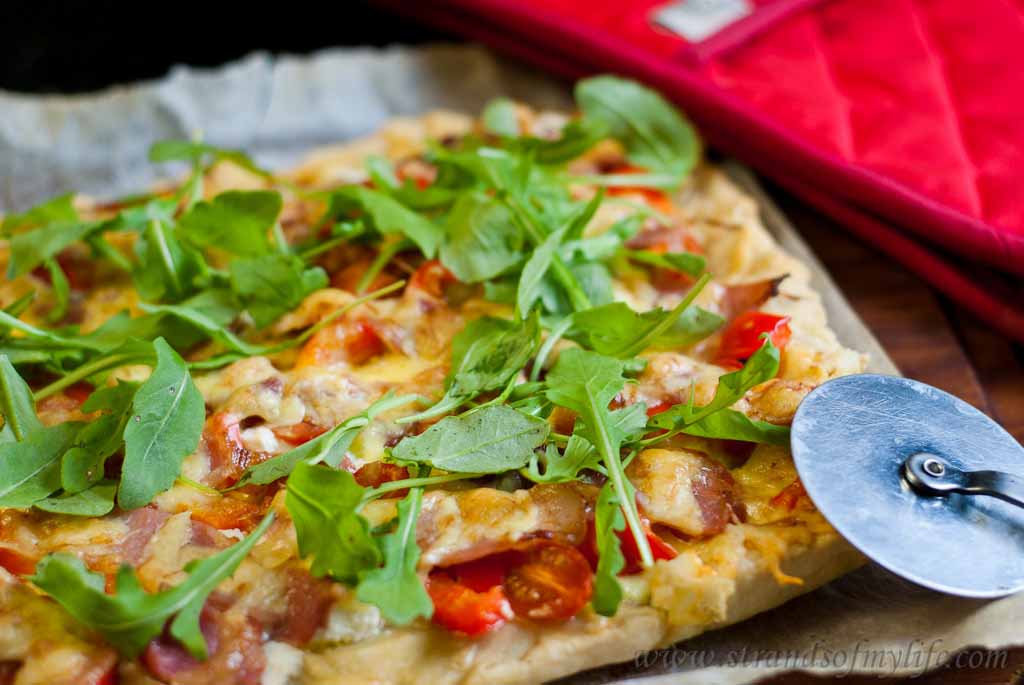 Even though I am on an expanded low Fodmap diet, it doesn't mean I have to be without pizza. My bread roll mixture works well as a pizza base when spread out thinly. That leaves you open to put whatever you want on top as long as it is low Fodmap. You could vary the topping according to what you have in your fridge or your preferences.

Bacon & Feta Pizza - low Fodmap and gluten-free
Author:
Suzanne Perazzini
Ingredients
Pizza base - recipe here
4 slices of bacon
100gms feta cheese
Cherry tomatoes
1 red bell pepper
Mature cheese
Rocket
Method
Make the dough according to instructions and spread it out as thin as possible on a tray lined with baking paper.
Cook in a moderate oven until the top is slightly brown. Turn it over and brown the other side.
Take out of the oven and grate some cheese straight onto the hot pizza base.
Chop up the bacon and scatter over the top.
Cut the feta into cubes and place evenly over the base.
Cut up the pepper and scatter over the top.
Cut the cherry tomatoes in half and evenly place around the pizza.
Season the tomatoes.
Grate more cheese over all the ingredients.
Place back in the oven and heat to melt the cheese and cook the bacon and pepper.
Remove and scatter over fresh rocket leaves.
Slice into wedges.