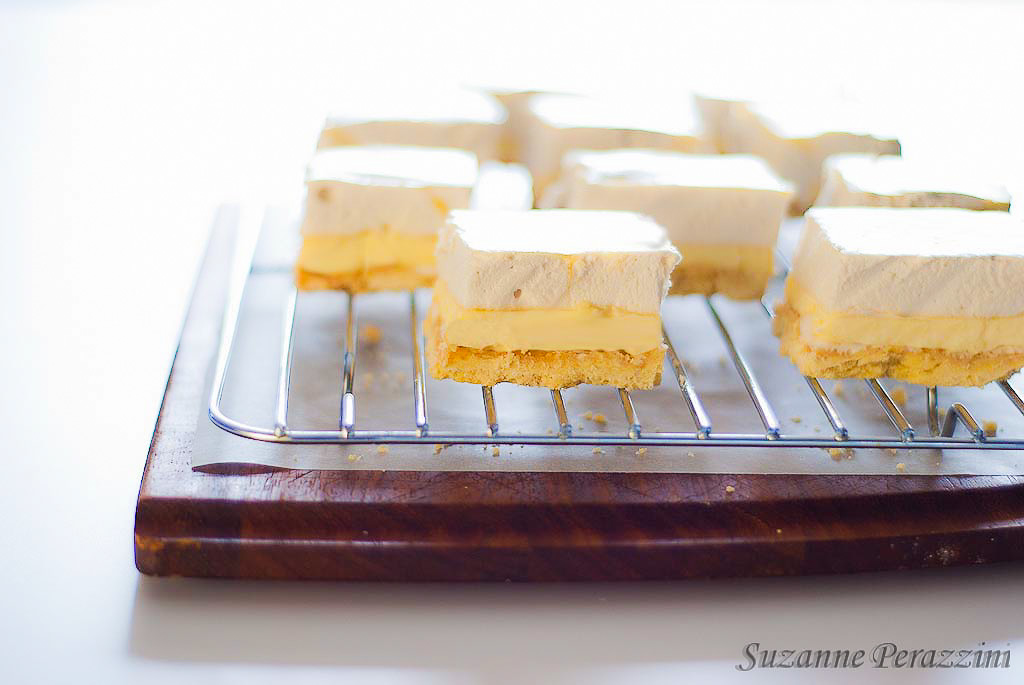 My favourite baked morning tea or afternoon tea goods are tarts and slices. You may have already noticed that. My cookbook has plenty of them. But now I am eating gluten-free and low FODMAP, I have to recreate many of my favourite recipes. Lemon and marshmallow are high on my list of desirable elements and I combined both for this first low FODMAP slice. I was delighted with the result and my digestive system is feeling very happy about it too. I did manage to cut them all on a slope and I promise I had had nothing more spiked than a cup of green tea when I did it. So when you look at the photos, they are not crooked, the slices are.
If you malabsorb lactose, use lactose-free cream.

Lemon Marshmallow Slice
Ingredients
For the base:
1 cup of my gluten-free flour blend
2 tsp cane sugar
pinch of salt
80gms/2.75oz chilled butter
1 egg
2 tsp cider vinegar
For the lemon layer:
400mls/13.5oz cream
3 tbsp cane sugar
⅓ cup lemon juice
2 tbsp gelatin
1 tbsp tapioca flour
For the marshmallow:
2 tbsp gelatin
¼ cup water
1.5 cups cane sugar
1 cup water
1 tsp vanilla
Method
For the base:
Preheat the oven to 180°C/350°F.
In a food processor, add the flour, sugar, salt and butter, cut up small.
Process until crumbs form.
Whisk together the egg and vinegar.
Add to the processor and process again until a firm dough forms.
Adjust with a little cold water or a little more flour if necessary to get a dough which stays together but doesn't crumble.
Butter and line a 17.5 x 27.5cm/7" x 11" slice tin.
Press the dough into the prepared tin.
Place in the oven for 10 minutes or until golden.
Cool completely.
For the lemon layer:
Bring the cream and sugar to the boil.
Add the lemon juice and stir.
Dissolve the gelatine in a little hot water and add. Whisk.
Mix the tapioca flour in a little cold water and add.
Keep stirring until it thickens then take off the heat and let cool.
Pour it over the cooled base.
Place in the fridge to set completely.
For the marshmallow:
Place everything in a saucepan and bring to the boil, stirring.
Let boil, not stirring, for 15 minutes.
Cool to lukewarm.
With egg beaters or a stand mixer, whisk until thick and white.
Pour onto the set lemon layer and place in the fridge to firm up.
Once set completely, cut into slices.
I thought you might like an update on Dario's tobacco plants which he has grown from seed. They have now taken over one section of the garden.