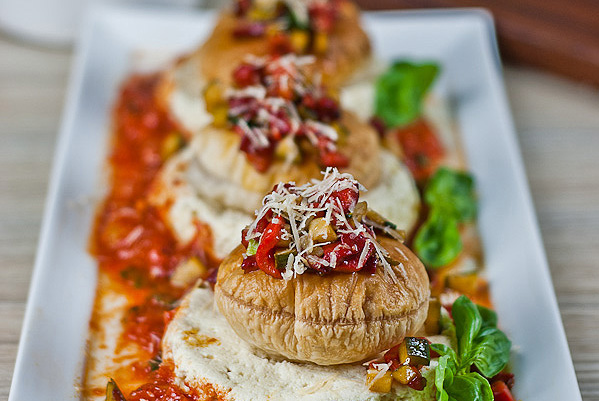 I saw a recipe for baked ricotta on the My Kitchen Stories blog and decided to make it tonight. The ingredients were great and it tasted fine but I had to cook it much longer to get it to set. Again this could be my loopy oven but I have added to the cooking time in the instructions. Tania placed a massive mushroom on top of each of her baked ricottas but I forgot to put them on the shopping list and so Adriano didn't buy them. The inventiveness of someone who has cooked for many years came into play and I scoured the fridge for an alternative. I had one measly courgette and a jar of roasted peppers under oil so I chopped them all up together with one green chili and threw them in a frying pan with a little olive oil. I cooked them quickly and then drizzled them with a good truffle balsamic vinegar to finish off.
Dario said that the ricotta round was a little too big and the puff pastry circle too small. But, as I explained to him, puff pastry shrinks and the ricotta went into the molds I had in the cupboard. Yes, the ricotta rounds could have been smaller and therefore higher and yes, the sauce underneath could have been less sloppy on the plate and yes, the photograph could have been prettier but none of that happened. However, the taste was mighty good.
This is not a low Fodmap recipe.
Baked Ricotta with Sauteed Vegetables
Author:
Suzanne Perazzini
Ingredients
500gm/1lb ricotta
2 tbsp thickened cream
50gm/ 2 tbsp creamy feta
2 tbsp Parmesan, grated
6 tbsp olive oil
salt and pepper
A sheet of puff pastry
50 gm/2tbsp melted butter
1 can diced tomato
½ bunch of basil
1 clove of garlic
1 courgette
2 red peppers under oil
A dash of balsamic vinegar
1 green chili
Method
Combine the first 3 ingredients and 2tbsp of olive oil in a food processor.
Spoon into individual round dishes that have been greased and smooth the tops.
Bake 180° C/350° F for 20-30 minutes or until lightly golden on top and set.
Brush the sheet of pastry with butter and cut into circles the size of your ricotta dish.
Place on baking paper and bake till golden next to the ricotta.
Put the rest of the olive oil in a small saucepan.
Add the garlic and tomatoes and simmer on low till fragrant but not too reduced.
At the end, add roughly chopped basil and salt and pepper to taste.
Dice the courgette, chili and red peppers and sauté in a little olive oil for a few minutes.
Sprinkle in some vinegar and stir to mix. Season.
Place a pool of tomato sauce on a plate.
When the ricotta is cooked, unmold it onto the sauce.
Place a circle of pastry on the ricotta.
Spoon over the cooked vegetables.
Sprinkle with grated Parmesan and serve.