Many are confused about the question of soya products on the low Fodmap diet because we can eat some and not others. It all depends on what part of the soya has been used in the production process. If you have irritable bowel syndrome, it is important to distinguish between them to reduce your IBS symptoms. Watch the video to find which ones are fine and which are not.
Video
Transcript
I am confused. Can I eat soy products?
Welcome to this video. Today, I'm going to talk about the role of soybeans in the low FODMAP diet. I get a lot of questions around soybeans and the different soy products. If the soybeans have been soaked, that's going to help the situation, because the FODMAPS in soybeans are water soluble. And as long as you drain away that water afterwards, a lot of the FODMAPS have already gone. Soybeans are an oligosaccharide, so they are a high FODMAP, so you do have to be wary of eating them as a whole bean.
Soya Milk
Now what about the different products that use soybeans, for example, soy milk? Soy milk can be made in two different ways. It can be made from the whole bean, and that of course is going to have high FODMAPS in it and that's not suitable for us. If it's made from the soy protein alone, then that's going to be absolutely fine.
Soy lecithin and Soy Sauce
A few things that they've tested at Monash University Research Centre: soy lecithin is good, and soy sauce is also fine for us. Both of those are low in FODMAPS.
Tofu
There are also a lot of questions around tofu. I get asked this a lot. If the tofu is a hard tofu, you are going to be able to eat that, always in moderation. Because in the process of making tofu, they've squashed out most of the liquid, and of course the FODMAPS are gone with the liquid. But on the other hand if you've got that softer tofu like the silken tofu, a lot of the liquid hasn't been pressed out of that. That will have a higher level of FODMAPS and should be avoided.
Soy Bean Oil
Soy bean oil of course is fine because it's a fat, there are no carbohydrates in it, so there is no issue with that.
I'm not advocating or non-advocating the use of soy products. I know there are a lot of issues about it being genetically modified. That's for a completely different video, and not for this one. That's your choice to eat these products, or not. But I hope that has cleared up a few doubts for you – what you can and what you can't eat, where the soy products are concerned. I thank you for watching this video. Bye-bye.

---
Pesto Nibbles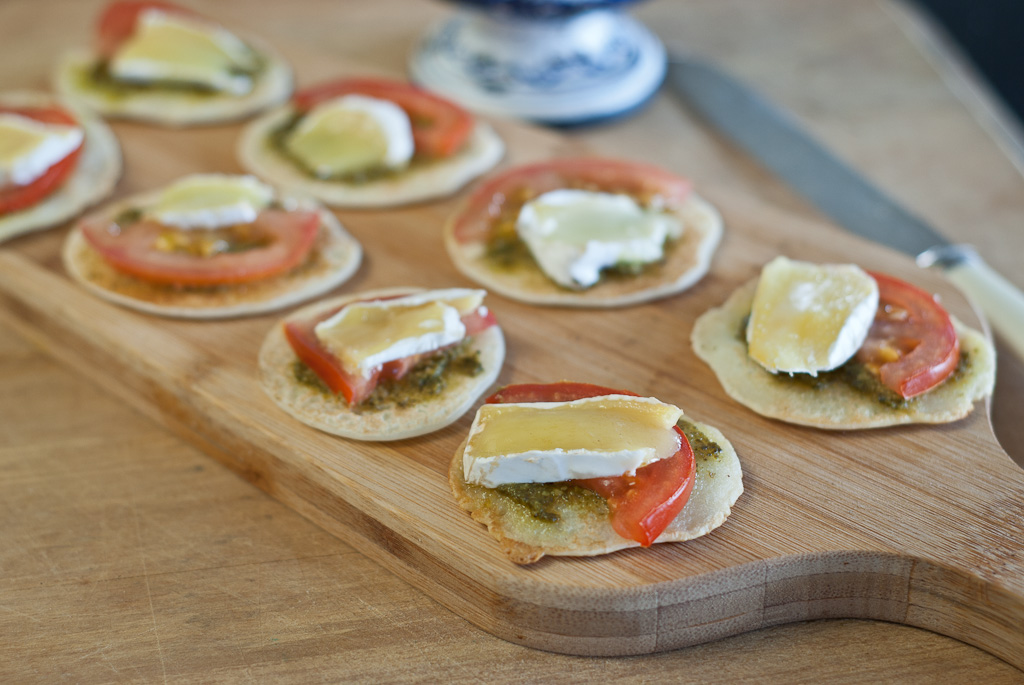 This is another quick recipe to make for when friends drop in and you offer them a glass of wine. You can make them right in front of them because they are quick and easy and they are best eaten straight off the heat though they are fine later too. These are thin little mini pancakes but with no egg so they stay thinner and become more crispy. You could put whatever you wanted on top and even add jam and cream for a sweet treat.

Tomato Pesto Nibbles
Author:
Suzanne Perazzini
Ingredients
83gms/3oz white rice flour
21gms/0.75oz tapioca flour
21gms/0.75oz potato starch
Pinch of salt
1 cup of milk
Pesto sauce (make your own with the addition of 1 tsp of garlic-infused oil instead of garlic)
Tomatoes
Camembert cheese
Method
Sift together the dry ingredients and add the milk gradually to form a fairly runny mixture.
Heat a frying pan and melt a knob of butter in it.
Place tablespoonfuls into the pan and turn once bubbles form and they are browned underneath.
While still cooking, smear a little pesto on top, then add half a slice of tomato and a thin piece of cheese. This will ensure the cheese melts a little from the heat.
Once cooked underneath, remove and eat hot.