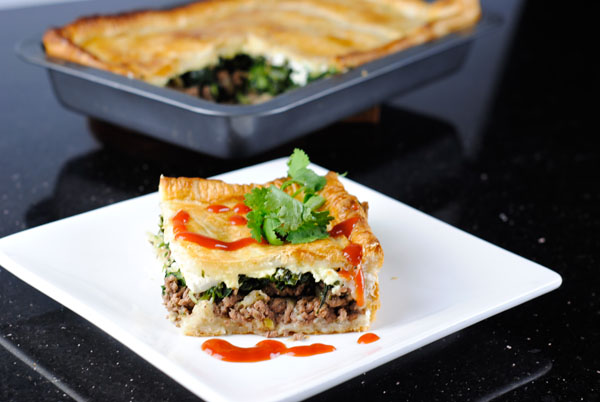 The dinner last night was not so photogenic so I decided to make a pie. They usually look pretty good if it doesn't all go horribly wrong. Thank goodness this one didn't. I got the recipe from Spicie Foodie but I used puff pastry instead of philo pastry because I always find it too dry and brittle. Maybe I should buy better quality.
Adriano and Dario devoured every last crumb of the pie and it wasn't that small. The layers of meat, spinach and feta worked really well to create a tasty and filling meal.
This recipe is not low Fodmap.

Beef, Spinach and Feta Pie
Author:
Suzanne Perazzini
Ingredients
3 sheets of puff pastry
500 g mincemeat
1 small onion, finely chopped
4 garlic cloves, minced
2 small chillies, finely chopped
1 tsp dried thyme
½ tsp dried rosemary
1 tsp salt
¼ tsp ground black pepper
1 pack (350 g) frozen spinach
Feta cheese
Olive oil or vegetable oil
1 egg lightly beaten, for egg wash
Method
Preheat oven to 220 c degrees.
Defrost the spinach. Squeeze out the liquid and season. Set aside.
Heat just enough oil to coat the pan, once warm add the mincemeat and cook all the way through.
Drain off all extra fat. Remove meat from the pan and set aside.
Add a little bit of oil to the pan and once warm saute the onions until translucent.
Add the chilli and garlic and cook another 2 minutes.
Add the beef back to the pan then sprinkle all of the seasonings into the pan, stir to distribute the herbs well.
Turn heat to low flame and allow to cook another 5 minutes. Turn heat off and set aside to cool slightly.
Line a baking dish with pastry, layer in the meat, spinach and finish with the feta cheese slices and top with a pastry lid.
Seal the edges. Brush with the egg wash.
Bake in centre of the oven for 20 minutes or until the dough is browned and crispy.