Studies show that there is a connection between GERD (reflux) and irritable bowel syndrome. The chances are that, if you have symptoms of one of these conditions,  you could also have symptoms of the other. Have a look at my video to hear more about it.
Transcript of the Video
Through my conversations with people with IBS, I have found many also have GERD or reflux.
The Connection
According to a 2009 study published in Digestive Diseases and Sciences, a first diagnosis of either IBS or GERD significantly increases the risk of a subsequent diagnosis of the other condition. This coexistence suggests that the two conditions may share a common disease mechanism.
What is GERD?
Just to clarify, GERD is a disease that may cause significant damage to the esophagus over time. What happens is that the stomach acids back up into the esophagus due to the lower esophageal sphincter muscle not working well and so lets the acid come back up.
Antacids
Many people take antacids for reflux but, even though they will initially lend some relief, they could be aggravating the underlying condition. Also, antacid use can lower the acidity of the stomach to such a degree that it loses its ability to protect us from bacterial infection. It is now widely recognized that bacterial infection can cause ulcers. So you have to watch for those.
GERD plus IBS
If you have both GERD symptoms and IBS symptoms, you are not alone. Some estimates of the coexistence of the two is quite high, with 79% of IBS patients reporting symptoms of GERD and 71% of GERD patients reporting symptoms of IBS. This only refers to symptoms though, not a confirmed diagnosis. In studies in which the diagnosis of GERD was confirmed, percentages of GERD patients also suffering from IBS ranged from 24% to 35%.
It seems like a double whammy but know that you are not the only one with both. I have several clients with both on my low Fodmap program and I modify the low Fodmap diet to accommodate their reflux. Their reflux symptoms disappear along with their IBS symptoms.
Thank you for watching and goodbye.
---
Veal Roulades
I seem to be stuffing a lot of things lately, and today it is beef. In Italy, this recipe was made with veal, which they are rather fond of, but it is expensive here so I used venis schnitzel and it worked well. You could fill these with a variety of different combinations, but my little green book had this rice filling, and I just so happened to have some leftover rice so it was time to re-make this recipe decades later. It is great with polenta because of the sauce, which it soaks up nicely. I used 75% water and 25% milk (lactose-free if necessary) to make the polenta a little more creamy. I served it with a mixed salad.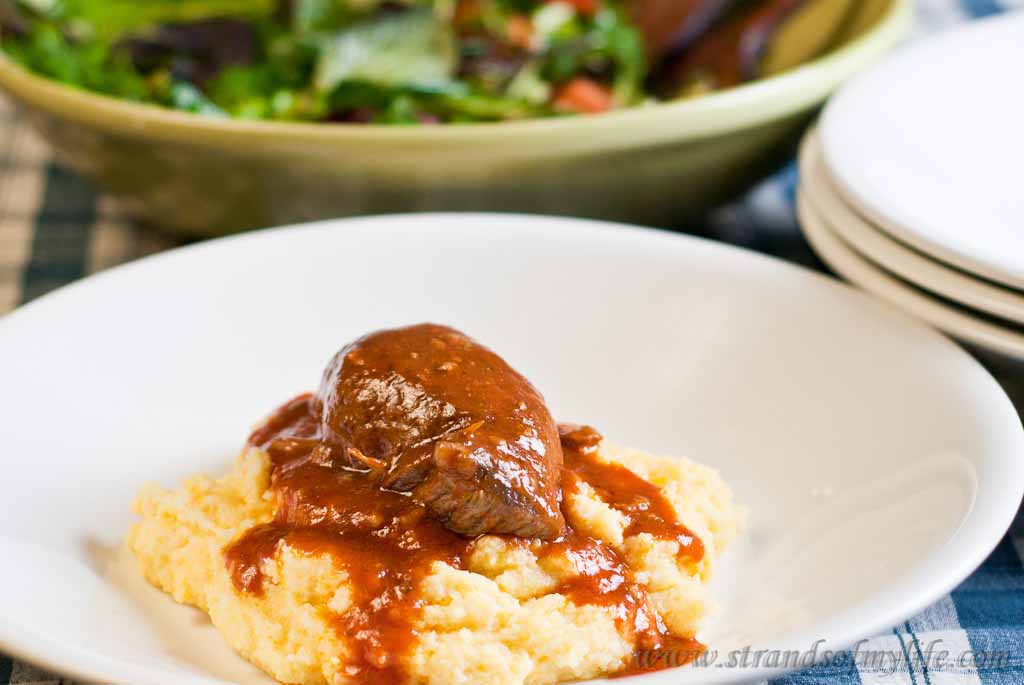 Veal Roulades
Author:
Suzanne Perazzini
Ingredients
4 thin slices of veal or beef
2 tbsp oil
1 tbsp butter
½ tbsp white rice flour
½ tbsp tapioca flour
250gms/8.8oz tomato passata
1 tbsp soya sauce
2 tsp Worcestershire sauce
½ cup water
Salt & pepper
For the filling:
1 cup cooked rice
100 gms/3.5oz mature cheese, grated
1 spring onions, green part only, chopped finely
1 egg
Satl & pepper
Method
Mix all the filling ingredients together.
Spoon ¼ of the mix into the centre of one of the pieces of meat.
Fold in the edges, roll up and tie with string or secure with toothpicks.
Saute the rolls in the oil and butter until browned.
Remove from the pan.
Mix the flours and add to the oil mixture and stir to form a paste.
Add the tomato passata, the two sauces and the water slowly, mixing all the time.
Season to taste.
Add the meat back in, cover and simmer 20 minutes.
Remove the cover and simmer for another 20 minutes.
Serve hot with the sauce spooned over. I served it with polenta.