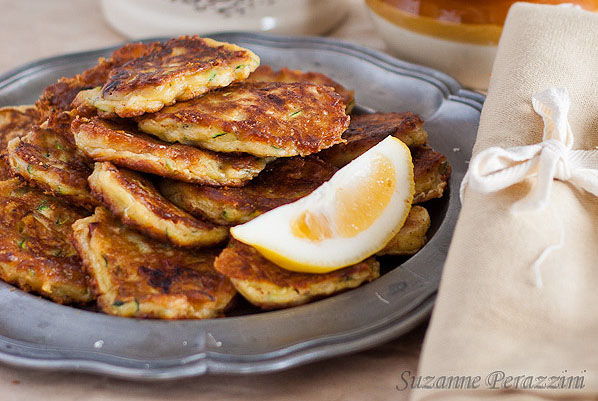 Adriano cooks on Friday, Saturday and Sunday nights. Part of his routine is to pour himself a glass of wine and open a packet of crisps or something similar to munch on. He also brings me, in my study, half a glass of wine and a few of his nibbles in a bowl. For me, this a symbol of the days when I am not working and I can do my own thing. But the crisps are not exactly healthy; in fact they are super unhealthy. So, on Saturday, I decided to make our nibbles myself and this might become a part of the routine rather than bake cupcakes or something equally decadent which are not kind to the waistline.
For this first venture into nibbles land, I made these tasty little fritters with grated courgette, cheese and sundried tomatoes and fried them in a little oil to crisp them on the outside. I then combined the remains of the contents of a bottle of chilli sauce and tomato sauce together with the rest of a jar of tomato and onion chutney to make an accompanying sauce, which was a great compliment to the fritters.
These were far superior to any crisps that could be found in the supermarket and went perfectly with the wine.
You could always make them bigger and they would become a fully fledged family dinner.

Courgette & Cheese Fritters - Low Fodmap
Author:
Suzanne Perazzini
Ingredients
¾ cup white rice flour
¼ cup tapioca flour
2 tsp baking powder
½ tsp each: salt, black pepper
2 eggs
1 cup milk (lactose-free)
1 cup grated courgette
1 cup grated cheese
⅓ cup chopped chives
½ cup semi-dried tomatoes, finely sliced
Method
Combine flours, baking powder, salt and pepper in a bowl.
Beat the eggs and milk together.
Stir into the flour mixture to make a batter.
Squeeze excess juice out of the grated courgette.
Stir the courgette, cheese, chives and tomatoes into the batter.
Heat a little oil in a frying pan.
Cook spoonfuls of the mixture over a medium heat until golden on one side.
Turn and cook the other side.
Place the fritters on a platter and keep warm while cooking the remaining batter.
Serve with chilli sauce, tomato sauce or a mixture of both.