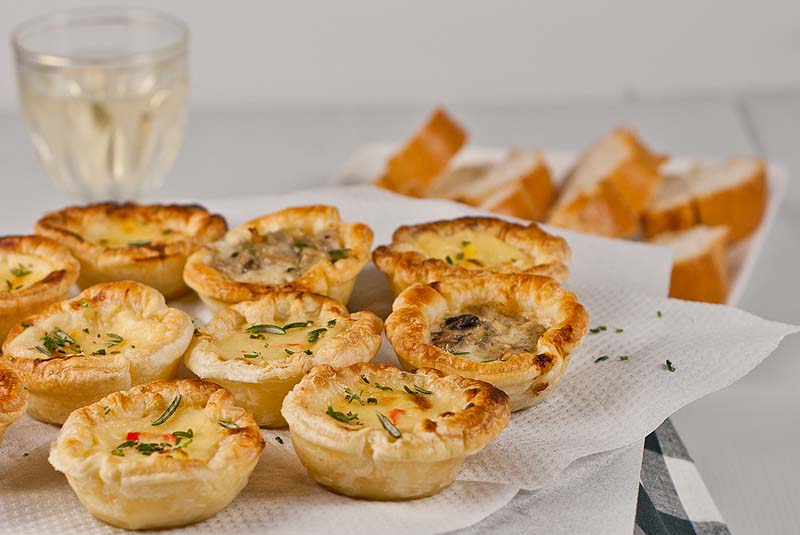 I'm sticking with the little food. They are a bit more work but it means I eat less and that's always good. Our holiday back to Italy to see family is only a few weeks away and I don't want to look balloon-like. I'm getting older but I don't need to get fatter. So little food it is. I made this recipe up and some purists might say that you can't combine the Thai flavours of chili and ginger with French Brie but I did and they tasted great. The evidence is the lack of a crumb left. I also had left over a bit of the tart filling from last night so I filled  a few pastry cases with that, hence the two fillings in the photo.
This recipe is not low Fodmap.

Crab & Brie Cups
Author:
Suzanne Perazzini
Ingredients
Savory short pastry
1 tbsp flour
1 tbsp butter
Milk
1 red chili, chopped finely
1 inch knob of fresh ginger, grated
1 garlic, crushed
1 can of crabmeat
½ a wedge of brie
Method
Turn the oven on to 180°C/350°F.
Oil 12 deep muffin cups
Cut out circles from the pastry and line the cups with them.
Blind bake them for 10 minutes.
Melt the butter in a saucepan and add the chili, garlic and ginger. Cook for 1 minute.
Add the flour and stir well to form a stiff paste.
Bit by bit add milk, making sure with each addition that it is incorporated well before adding the next lot.
When the sauce is the consistency of thick cream, add the crab and brie. Stir until the cheese is melted. Season to taste.
Spoon into the semi-cooked pastry cups and replace them in the oven for another 10-15 minutes.