The Video
When you start the low Fodmap diet for irritable bowel syndrome and move from a diet which is hurting you to a healthy diet which eliminates IBS symptoms, it is possible that you will have withdrawals symptoms from some of the foods you have been eating like sugary foods and caffeinated drinks. Have a look at my video to learn more.

Transcript of the Video – Headaches on the Low Fodmap Diet
Why do I have a headache now I have started the low Fodmap diet?
Today I'm going to talk to you about withdrawal symptoms when you go on the low FODMAP diet. Many of my clients when they start the low FODMAP diet, they complain of headaches and other aches and pains that are unrelated to their IBS symptoms of bloating, diarrhea and/or constipation.
When you go from a diet which has actually actively been hurting you, and in fact, you probably haven't been absorbing many of the nutrients from the food at all, because it's been going straight down until your large bowel, where it's fermenting, and you start eating good healthy food that will include less sugar, and less processed food, there is the possibility that you could get some withdrawal symptoms from that unhealthy diet. Especially if you've been a great sugar lover and you put sugar in your tea and your coffee, and you have chocolate, you have sweets, and candies, and you also perhaps at morning tea or afternoon tea, you have something sweet to eat like a biscuit, or a bun, or a piece of cake. Now that's a lot of sugar going into your body. And when you're on the low FODMAP diet, you really have to limit your sugar. The best sugars for you – and I have another video on this – are your table sugar, your normal sugar because it's 50% fructose, and 50% glucose, and the glucose helps the fructose to be absorbed. But you can't use too much of it, or the glucose stops doing that job. So a few teaspoons of sugar a day are not going to hurt you. But if you start having a few tablespoons of sugar a day, which is above the preferred amount anyway, then you're probably going to be having IBS symptoms from that. But when you stop having that, you could get withdrawal symptoms which would include a headache. Now the other thing that often happens when you start the low FODMAP diet, is you stop drinking soda and pop drinks. Things like Coke.
Coke has got a lot of caffeine in it as well as sugar. And so if you stop – cold turkey – drinking it, you're going to suffer. You're going to have withdrawal symptoms which will include a headache.
The same with coffee and tea, both of those have got caffeine in them. So if you restrict those whereas, perhaps before you were a big drinker of coffee and tea, and had it strong, and now you have to drink less, and drink it a bit weaker, you'll probably get some withdrawal symptoms from that. These symptoms vary from person to person, and they could take up to a week to clear. You guys are going to have to really hang tough during this period until those headaches go away while you're withdrawing. It's not unexpected for this to happen, especially when you go from a diet which has been a processed diet, which is hurting you, to a clean, unprocessed diet which is helping you. It seems counter-intuitive that you might actually feel worse from one point of view during this period, but that will pass, and you'll be very grateful for that having passed, and for the fact that this low FODMAP diet is really keeping away your IBS symptoms.
So, stick to the diet and stay strong during this period of discomfort. Thank you very much for watching, and goodbye.

---
Pesce Finto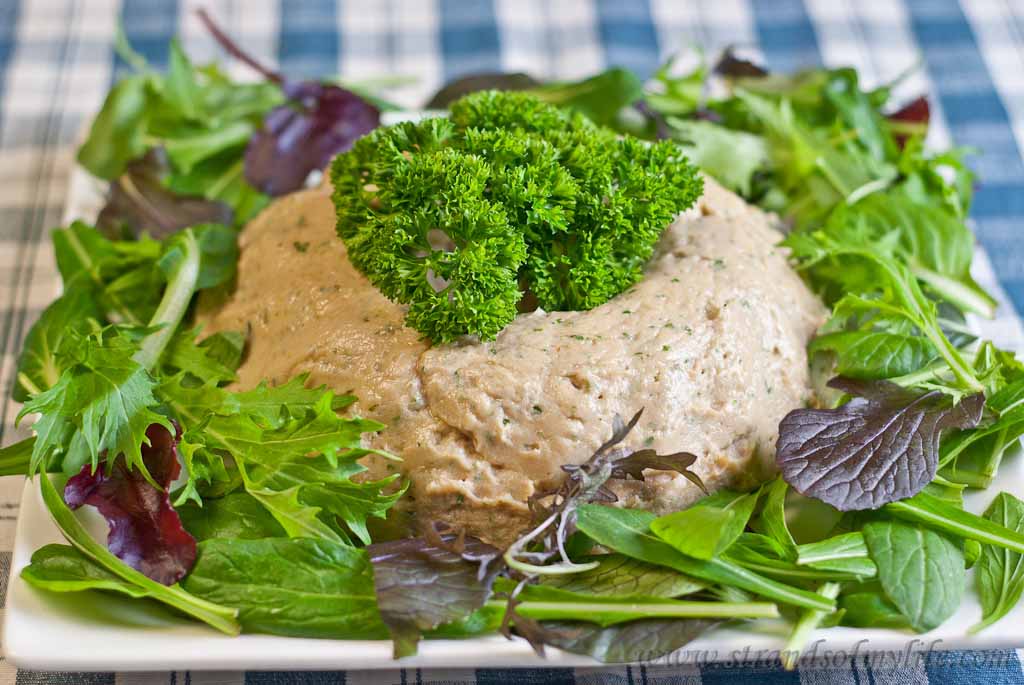 Here is another old-fashioned recipe and an old-fashioned plating. This is a second kind of tuna mousse but with a different recipe to the last one - see it HERE. My recipe in Italian in my little green book calls it Pesce Finto, which means false fish. I should really have used a fish mold but I don't own one and I am unlikely to ever use it again so it went into a simple ring mold instead.

Pesce Finto or Fish Mousse - Low Fodmap
Author:
Suzanne Perazzini
Ingredients
300gms/10.6oz tuna (canned)
500gms/17.8oz cooked potatoes
5 tbsp of homemade mayonnaise
1 tbsp capers
2 tbsp parsley (chopped finely)
Salt & pepper
Method
Process together the potato, tuna, parsley and mayonnaise.
Mix in the capers and season.
Spoon into an oiled mold.
Refrigerate for 2-3 hours.
Unmold onto a serving plate.