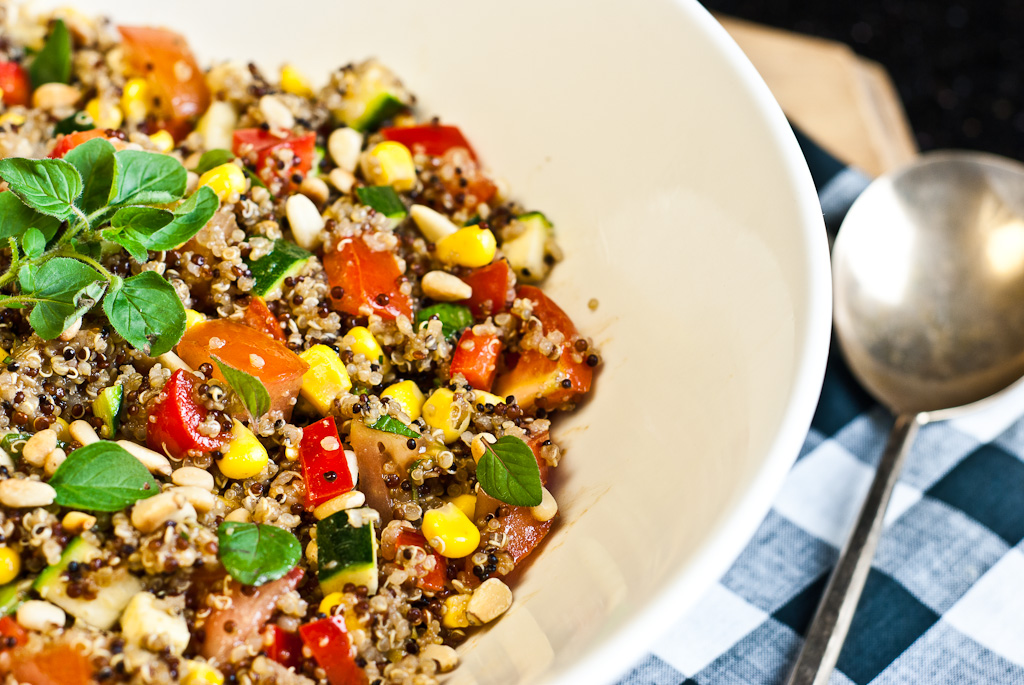 Adriano is away racing somewhere down south and won't be back until Sunday but I still have to cook for Dario and me but I decided to keep it simple. I don't use quinoa very often because it is so expensive here – around $10 for a small packet which is enough to serve four. But it is a super food for those on a low FODMAP diet and will slide down without an issue. I added a whole lot of low FODMAP vegetables and topped it all with toasted pinenuts and dressed it with a simple vinaigrette, which could have a garlic-infused oil in it for a little extra punch.
What I actually did when I cooked the quinoa, though it is optional, was to cook a teaspoon of cumin, coriander powder and salt in a little oil before adding the quinoa and toasting it a bit before adding the water. That added a lovely exotic flavour to the dish.
Do you remember the giveaway for the $500 Amazon card here? A winner has been chosen and it is Rachel M, a very thrilled viewer who has already gone shopping. Thank you to all of you who entered.

A Crunchy Vegetarian Quinoa Salad - gluten-free recipe and low FODMAP
Author:
Suzanne Perazzini
Ingredients
Quinoa (I used a white, black and red mixture)
Corn (freshly cooked and cut off the cob)
Zucchini
Leeks (green part only)
Fresh oregano
Tomatoes
Red bell pepper
Pine nuts
Vinaigrette dressing
Method
Cook the quinoa according to the instructions on the packet.
Cool completely.
Chop up the vegetables into small chunks.
Chop the oregano finely.
Toast the pine nuts.
Mix everything together.
Dress with a vinaigrette made with olive oil, balsamic vinegar, salt and pepper. Add a little mustard if you are fine with that.
This salad will keep fresh in the fridge for a few days.