Cravings of a Lunatic mentioned an article by Dorie Greenspan in the comments for my Chocolate Cranberry Cookies about heating your oven and it could explain some of my baking problems. Apparently, you have to wait for some time after the oven has reached the desired temperature because it is not in fact at the desired temperature. Just to be sure, the oven goes way beyond it and then settles back for a snooze while it cools to below the desired temperature and then kicks into action again. Its aim is to average out at what we have told it to do but with as little effort as possible. Not helpful, I say. And that's why recipes always have cooking time ranges – because every oven is different. So we can get men to the moon (I know that's a cliché) but we can't create a reliable oven that sits at a particular temperature long enough to cook ten-minute cookies. Well, I'd say that's not good enough.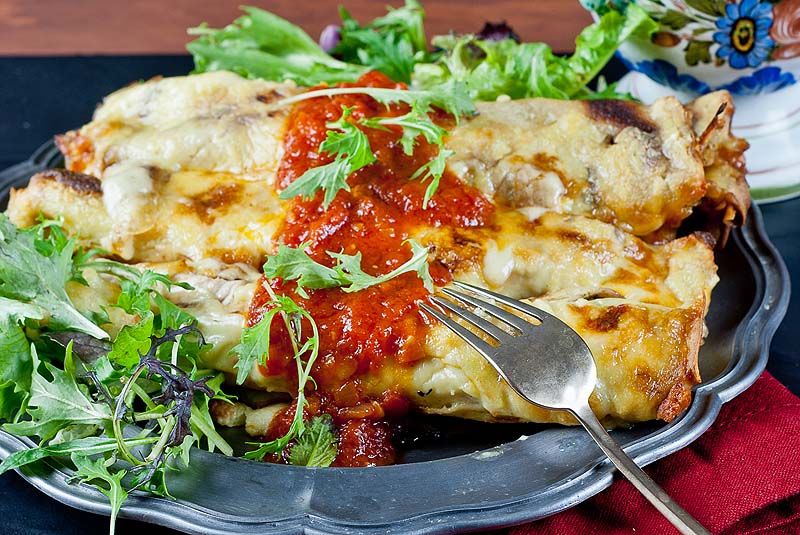 Anyway, enough ranting. I had a lucky night tonight because we had that rare occurrence in our household – leftovers. That meant no cooking. But that would also mean no photographs and I couldn't handle the withdrawal symptoms so I rearranged the crepes and re-photographed them. I did think yesterday's recipe looked a little suspect so I needed to have a second try anyway. Usually there is no chance to re-photograph because there is not a crumb of food left so I took advantage and clicked away. It was such a pleasure to have the time to play about since the food wasn't getting cold – it was already cold. I heated it afterwards while I watched a bit of The Middle. Such luxury.
Oh, and I added some of the tomato sauce that Adriano made for our Sunday pizzas. It went really well with the crepes and added a bit of needed acidity.
If you want the recipe and can't be bothered going to yesterday's post, here it is: Chicken & Broccoli Cheese Crepes.