As most of you now know, there is a solution for eliminating your irritable bowel symptoms very quickly and that is by following the low Fodmap elimination diet faithfully. Dedication is required because it is a complex diet but the results can be miraculous and very quick.  Have a look at my video to see why that dedication is necessary.
Video
Transcript
How long does it take to eliminate IBS symptoms when on the diet?
Welcome to this video. Today I want to tell you how you can eliminate your IBS symptoms in just a few days. And the answer, if you've been watching my videos you'll know by now, is the Low FODMAP Diet. This does have to be done accurately, and it's not just a list of good foods and bad foods. It is about combinations of foods and amounts so that you're not adding several low FODMAP foods together to create a high FODMAP cocktail.
On my program, I have clients who are completely dedicated to getting rid of their symptoms. And they stick to my meal plans like glue. Those people get results within very few days. I am talking about one day, two days and I'm already getting e-mails from them that say they have no symptoms and can't believe how their lives are changing. Those who decide to do their own thing within my meal plans and swap things around or try to continue to eat in their old way, they take much longer to get results, of course.
The fact is that people who have IBS symptoms, their diet has been making them ill. So it makes a lot of sense to change that and to change it completely. And of course when they get my meal plans, they can be quite different from what they normally eat. And this throws them off and they start requesting all sorts of changes
And I'm certainly flexible to a certain degree, but I have balanced up my meal plans as well as I possibly can. With the combinations right, the amounts through the day and getting a balanced food diet at the same time so that you are getting a balance of all the different nutrients that you need. The minute people start changing them, then things can go wrong. They could be adding two fruits together that create– While they're both low FODMAP alone, a high FODMAP combination. So, it is very possible to be symptom free within just a few days but it does take a little bit of dedication on your part and a lot of flexibility, so that you are changing the way you are eating but you have an enormous reward at the end of that because you will be symptom free.
All right, that is all I want to say today that this is a huge possibility. Your life can be transformed. I would love you to join us. Thank you very much for watching the video and goodbye.

---
Fish in Spicy Yoghurt Sauce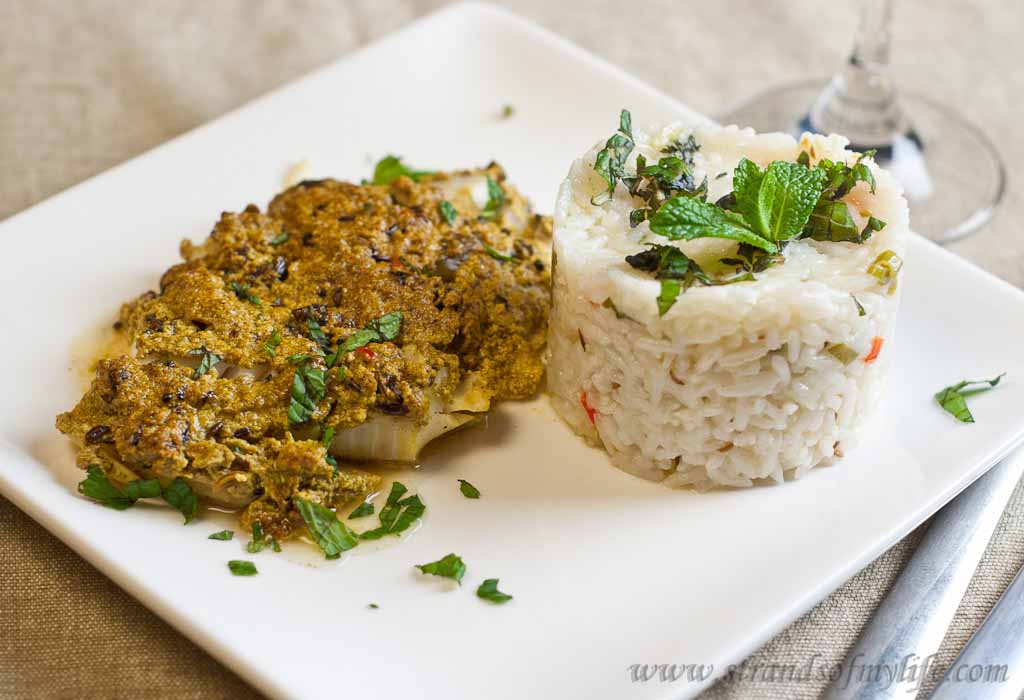 We had this dish last night and it was delicious. It looks like a lot of ingredients but they are all spices and flavourings which get thrown in together. You can pop the fish in the oven and get on with the rest of the dinner while it cooks. People think that we can't eat delicious food while on the low Fodmap diet but that is so wrong. Every last corner of the baking dish was cleaned out and almost licked. I had about 30 seconds to photograph this because it was getting cold and Dario had arrived with a pile of shopping he had decided to do just before dinner - not great timing. So apologies for the lack of finesse.

Fish in spicy yoghurt sauce – low Fodmap and gluten-free
Author:
Suzanne Perazzini
Ingredients
4 tbsp oil
1 tsp garlic-infused oil
4 cardamon pods
2 tsp cumin seeds
1 tsp mustard seeds
2 spring onion, green part only, chopped up
1 tsp salt
1 tsp ground cumin
1 tsp ground coriander
2 tsp turmeric
1 tsp garam masala
1 red chilli. chopped up
600mls Greek yoghurt (use lactose-free if you are lactose intolerant)
500gms white fish fillets
Method
Heat oven to 180°C/350°F.
Heat the oils in a frying pan.
Add all ingredients except the last two and cook them to develop the flavours.
Add the yoghurt slowly and heat.
Place the fish in an oiled heatproof dish and pour the sauce over the top.
Bake for 20-30 minutes, depending on how thick the fillets are.
Serve hot with rice and a salad.